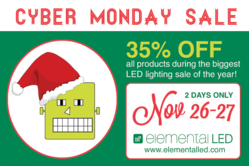 To get the quality and selection we offer at these prices is a rare opportunity our customers look forward to every year.
San Francisco, CA (PRWEB) November 19, 2012
Elemental LED, the San Francisco-based leader in LED lighting solutions, announced the dates of its 2012 Cyber Monday sale. The company's entire inventory of products will be discounted by 35% starting November 26th at 12:00 a.m. PST and ending November 27th at 11:59 p.m. PST. Based on the tremendous response from last year, the company decided to add an additional day of sales. The sale features a new line of holiday related lighting products including Celebright LED Christmas lights, Dance Party Lights and Gaming Lights.
"Our customers have loved the Cyber Monday sale the past few years so we extended it for two days this year," says Elemental LED Marketing Manager Charlotte Dick. "To get the quality and selection we offer at these prices is a rare opportunity our customers look forward to every year."
Elemental LED has increased stock on its most popular lighting products, including those for the kitchen, living room, outdoor patio, retail display, and restaurant or bar. These products include LED lights in varying degrees of brightness and colors, color-changing lights, waterproof lights, dimmable LED puck lights and accessories like LED dimmer switches.
Customer Service Representatives will be available during extended hours of 6 AM to 7 PM PST via phone, chat and email to assist during the largest Elemental LED lighting sale of the year. Elemental LED's website is also equipped with a library of instructional videos, tutorials and diagrams for inspiration and instruction for the novice and professional on understanding and installing LED lights.
Elemental LED representatives encourage customers to start planning their order early, and to call 877-564-5051 for assistance before and during the sale. To learn more about Elemental LED and the LED lighting Cyber Monday sale on November 26th and 27th, please visit http://www.elementalled.com/2012-holiday-lighting-sale.
About Elemental LED:
Elemental LED is where style and sustainability come to light. We are dedicated to making LED lighting affordable and accessible to everyone; not only because LED lights are fun and exciting, but because LED lighting technology is the safest and most energy-efficient way to light up our world. On our website you will find a catalog of all of our products. Most popular include light fixtures, strip lights, light bars and puck lights, along with all compatible accessories, power supplies and low-voltage dimmers. Our lighting products also include variations in brightness and size and come in waterproof and even color-changing. We also offer videos and tutorials on how to assemble and install all of our unique lighting solutions. For more information, visit us at http://www.elementalled.com.