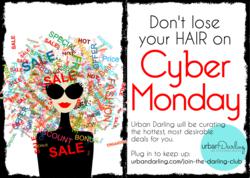 We've found that many shoppers are overwhelmed by the sheer magnitude of deals on Cyber Monday. We're fixing that problem
Silicon Valley, CA (PRWEB) November 19, 2012
Urban Darling, the San Francisco Bay Area-based boutique wardrobe stylist agency known for its "Purge, Merge, Splurge" approach to wardrobe repair, announced today that their wardrobe stylists will publish an exclusive Cyber Monday newsletter curating the best shopping deals from the world wide web.
On Monday, November 26, 2012 — also known as "Cyber Monday" — Urban Darling will send out four fashion and style targeted newsletters, beginning at 6AM PDT, and repeating at 9AM PDT, 12PM PDT and 3PM PDT. Each newsletter will feature the most desirable deals available, as selected by Urban Darling's team of personal wardrobe stylists. Additionally, information on purchasing personal Virtual Wardrobe Styling gift certificates will be available.
"We've found that many shoppers are overwhelmed by the sheer magnitude of deals on Black Friday and Cyber Monday. If you're not a frequent shopper, it can be very confusing," says Urban Darling founder, Corinne Phipps. "As personal wardrobe stylists, we have an advantage in that market. We're shopping all the time. Our Cyber Monday newsletters will be incorporating small market retailers and one-of-a-kind vendors that would otherwise be overlooked. We think our readers will be pleasantly surprised."
"Naturally there will also be tributes to big retailers and our favorite online shopping sites. If you have a hard-to-shop-for relative, you'll want to plug-in to Urban Darling on Cyber Monday. It's our job to stay on top of the best deals. We're good at it, and we love doing it!" added Phipps.
The Cyber Monday newsletter is available exclusively to Urban Darling's newsletter subscribers. There is no cost to join and subscribers may cancel at anytime. Sign up is available at Urban Darling's website, UrbanDarling.com.
Urban Darling, founded by Corinne Phipps in 2006, provides in-person and virtual wardrobe styling services to men and women across the United States through its network of 20 personal stylists in nine states.