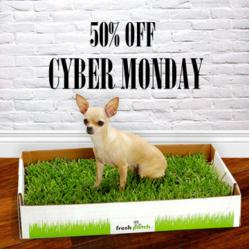 Customer's can order a single Fresh Patch from the website at 50% off when using coupon code CYBERMON at checkout.
Los Angeles, CA (PRWEB) November 20, 2012
Cyber Monday, the first Monday after Thanksgiving, is a great opportunity to pick up discounted gifts for family, friends, and of course pets. Andrew Feld, Founder of The Fresh Patch Real-Grass Dog Potty, is excited to have his company partake in this year's Internet holiday. "I'm always impressed with the Black Friday sales, however, I'm not too keen on spending a couple of days camped out in the cold. That's why I love Cyber Monday. You can get amazing deals from many different stores without all the hassle."
Feld hopes people will take advantage of the holiday to try Fresh Patch's unique alternative to pee pads. "We offer a one-of-a-kind product," says Feld. "Our customers want the best bathroom solution for their dogs – not necessarily the cheapest." The hydroponically-grown grass in Fresh Patch really works with dogs because it is what they instinctively want to go on.
The freshpatch.com sale is one day only (November 26th). Customers can order a single Fresh Patch from the website at 50% off the standard price when using coupon code "CYBERMON" at checkout.
Cyber Monday is a great opportunity to order heavily discounted merchandise for your all your pets. Large retailers like Petco and Petsmart are also offering savings on items like dog clothing, collars, treats and accessories.