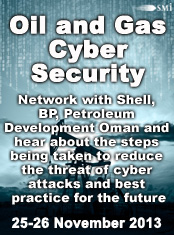 London (PRWEB UK) 29 June 2013
Oil and Gas companies are heavily investing in establishing the most comprehensive security systems for their assets and digital infrastructures, with spending set to reach $1.87 billion by 2018. Managing security of networks and wireless communication systems, as well as defending IT infrastructure from external virus attacks and internal compatibility threats is a top priority.
Against this backdrop, SMi's third annual Oil and Gas Cyber Security conference will feature senior industry figures from Petroleum Development Oman, GDF Suez, Shell among others, discussing what is being done to protect highly valuable intellectual property and commercially sensitive information on production, exploration plans and assets.
Speaker panel includes:

Fathiya Al Farsi, Head IM&T Risk Management, Petroleum Development Oman
Phil Jones, Security and Resilience Manager, GDF Suez E&P UK Ltd
Tim Harwood, Security Capability & Awareness Lead, BP
Auke Huistra, Lead Workforce Development PCD IT Security, Shell Projects & Technology
Annemarie Zielstra, Director, International Relations Cyber Resilience, TNO
Dr Gal Luft, Co-Director, Institute for the Analysis of Global Security, Senior Adviser, United States Energy Security Council
Geir Arild Engh-Hellesvik, Senior Manager, Technology Risk Services, BDO Norway
Andrea Rigoni, Director General, GCSEC Global Cyber Security Centre
Edward Hamilton, Head of Threat and Vulnerability Management, PWC
For more information, visit http://www.smi-online.co.uk/2013cyber-security17.asp.
Alternatively, contact Aaron Jackson on +44 (0) 20 7827 6064 or email ajackson(at)smi-online(dot)co.uk.