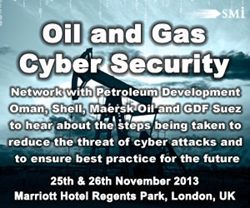 London (PRWEB UK) 27 October 2013
The oil and gas sector is rapidly evolving to meet increased demand by expanding asset portfolios and updating infrastructure. To support these industry changes, technology is advancing and infrastructural processes are being transformed - improved interconnectivity between business systems and networks within the oil and gas infrastructure setting are enhancing operations, but also exposing new avenues for system threats and vulnerabilities. Cyber security breaches to critical infrastructure can have grave consequences resulting in loss of revenue, operational disruption, environmental damage and danger to personnel.
SMi Group's third annual Oil and Gas Cyber Security conference will allow delegates to develop and improve current security measures and assess institution-specific business variables to develop customised system architectures that are cost-effective and flexible. The conference will also provide an insight into next-generation tools and information necessary in building cyber security action plans for oil and gas critical infrastructure protection as well as best-in-class intrusion response tactics.
Speaker Panel includes:

Claudio Lo Cicero, Head of Global Information Security, Maersk Oil
Fathiya Al Farsi, Head, IM&T Risk Management, Petroleum Development Oman
Phil Jones, Security and Resilience Manager, GDF Suez
Annemarie Zielstra, Director International Relations Cyber Resilience, TNO
Auke Huistra, Project manager National Roadmap to Secure Process Control Systems and Lead Workforce Development Thematic Group ICS and Smart Grids , ERNCIP
Geir Arild Engh-Hellesvik, Senior Manager, Technology Risk Services, BDO Norway
Andrea Rigoni, Director General, GCSEC Global Cyber Security Center
Edward Hamilton, Head of Threat and Vulnerability Management, PricewaterhouseCoopers
To view the full speaker line-up and two-day conference programme, visit http://www.smi-online.co.uk/2013cyber-security17.asp.