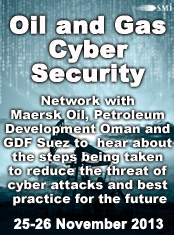 London (PRWEB UK) 22 November 2013
The oil and gas sector is rapidly evolving to meet increased demand by expanding asset portfolios and updating infrastructure. To support these industry changes, technology is advancing and infrastructural processes are being transformed - improved interconnectivity between business systems and networks within the oil and gas infrastructure setting are enhancing operations, but also exposing new avenues for system threats and vulnerabilities. Cyber security breaches to critical infrastructure can have grave consequences resulting in loss of revenue, operational disruption, environmental damage and danger to personnel.
Cyber security incidents worldwide are increasing daily and one of the most vulnerable sectors is oil and gas where over 2 million threats of varying complexity are experienced weekly. Cyber criminals are becoming increasingly sophisticated, highly organised and constantly inventing ways to bypass traditional defences such as anti-virus and firewalls. With such attacks increasing in frequency and sophistication, oil and gas companies are faced with an urgent need to protect their highly valuable intellectual property and commercially sensitive information.
Against this backdrop, oil and gas companies now are heavily investing in establishing the most comprehensive security systems for their assets and digital infrastructures, with spending set to reach $1.87 billion by 2018. Managing security of networks and wireless communication systems, as well as defending IT infrastructure from external virus attacks and internal compatibility threats is a top priority.
SMi's 3rd annual Oil and Gas Cyber Security Conference and Exhibition, taking place on 25-26 November in London, will address the most pressing cyber security issues facing the oil and gas sector with key presentations delivered by senior industry figures from Maersk Oil, Petroleum Development Oman and GDF Suez. The two-day programme will build on the success of the 2012 event and discuss recent efforts to bolster protection of highly valuable intellectual property and commercially sensitive information on production, exploration plans and assets.
Speaker Panel includes:

Claudio Lo Cicero, Head of Global Information Security, Maersk Oil
Fathiya Al Farsi, Head, IM&T Risk Management, Petroleum Development Oman
Phil Jones, Security and Resilience Manager, GDF Suez
Annemarie Zielstra, Director International Relations Cyber Resilience, TNO
Auke Huistra, Project manager National Roadmap to Secure Process Control Systems and Lead Workforce Development Thematic Group ICS and Smart Grids, ERNCIP
Geir Arild Engh-Hellesvik, Senior Manager, Technology Risk Services, BDO Norway
Andrea Rigoni, Director General, GCSEC Global Cyber Security Center
Edward Hamilton, Head of Threat and Vulnerability Management, PricewaterhouseCoopers
To view the full speaker line-up and complete two-day programme, visit http://www.smi-online.co.uk/2013cyber-security88.asp.
Plus, don't miss the post-conference workshop on:
Collaboration in industrial cyber security: a key aspect of CIIP | 27th November 2013, London, UK | Led by Samuel Linares, Director, CCI
This informative workshop will explain how the collaboration in industrial cyber security improves the overall security of critical information infrastructures. We will look at descriptions of the industrial cyber security landscape, the problems to be faced, and proposed solutions. This half-day event will address cyber security issues and how the end user should deal with them, communicating with stakeholders, regulations, the involvement of public bodies, and how objectives from different departments and organisations could become barriers to the deployment of cyber security measures.