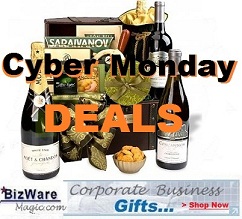 Holiday shoppers can save money by taking advantage of all the Cyber Monday deals featured on Bizwaremagic.com.
(PRWEB) November 26, 2012
Bizwaremagic.com is celebrating Cyber Monday by featuring great deals, discounts and gift ideas on its 10 year old business and marketing site. Cyber Monday deals and discounts have been gathered from all over the web and posted on the site to benefit its visitors and patrons. This year, a special emphasis has been placed on Dell offers, where potential holiday shoppers can get up to 50% OFF such popular brands as XPS, Inspiron and Alienware.
As part of its ongoing Laptop Buyer's Guide, Bizwaremagic runs several laptop coupon webpages, such as the Dell Notebook Coupons, HP Notebook Coupons and Alienware Coupons. All these pages have been updated for Cyber Monday and offer the visitor or holiday bargain hunter some great discounts.
For example, Dell has some excellent doorbuster items, such as 36% off Dell Inspiron 660s slim tower desktop for $349.99, $179 OFF Dell Inspiron 15 laptop for $389.99, Vizio E-Series 47-inch E471VLE LCD HDTV for $499.99 and $175 off Dell XPS 8500 desktop for $699.99 - all doorbusters come with free shipping. In addition, Alienware is also offering $100 off any Alienware laptop or desktop priced at $1699 and above.
HP is also offering great discounts on its popular brands. Shoppers can also save $10 off your purchase of $50 or more at HP. Lenovo and Toshiba are also offering great Cyber Monday deals, which are all featured on the Bizwaremagic site.
Another main feature is the comprehensive Corporate Business Gifts Guide, full of gift ideas and discounts for the savvy corporate buyer. There are promotional gifts, offers and deals from major brands and retailers such as Amazon, Gifttree, ThingsRemembered, A Gift Personalized... and many more. All to help the holiday shopper find the perfect corporate gift for that special boss or employee.
Like Black Friday, Cyber Monday offers the holiday shopper an excellent chance of finding a special deal or bargain. The fact that online sales have steadily increased year after year, only proves that consumers like these special deals and shopping from the comfort of their own homes or place of business. The Bizwaremagic site makes the whole process easier by presenting helpful tips, coupons and discount offers at one's fingertips. Cyber Monday is only a click away for everyone.
You can find the Dell Cyber Monday Deals here: http://www.bizwaremagic.com/Dell_Notebook_Coupons.htm and here: http://www.bizwaremagic.com/alienware_coupons_discounts.htm The special Corporate Business Gifts Guide can be found here: http://www.bizwaremagic.com/corporate_business_gifts.htm All products/companies mentioned above are registered trademarks of their respective owners and companies.