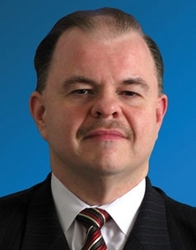 This strategic addition to the SDR leadership team will support our goal to expand SDR's market share and offerings for Homeland Security concerns and Emergency Operations Centers.
Orland Park, IL (PRWEB) May 7, 2010
Secure Data Replicator, Inc. (SDR), the Chicago-based firm that is an international leader in data backup / restoration and cyber security software for both enterprise environments as well as portable devices, has named James "Jim" Argiropoulos as their Director of Secure Data Solutions, Homeland Security, State, Local Government and Private Sector effective immediately.
Argiropoulos will be responsible for expanding SDR's Consulting Services which include Homeland Security solutions in the areas of Disaster Recovery, Business Continuity, Public Safety, Law Enforcement, Emergency Operations Centers, Continuity of Operations Planning, Video Surveillance and Command Vehicle implementations. Under his leadership, SDR will provide collaboration capabilities within their existing solutions as well as drive an expanded market presence as they meet a wide range of needs for both businesses and government agencies.
Jim is an expert in Public Safety and has deep experience in SDR's expanded portfolio. He is well respected both domestically and internationally as being an industry leader that takes great pride in the ability to understand each client's goals and objectives and has a proven track record of being able to respond with solutions that protect the public as well as corporate assets.
Argiropoulos is a native of Chicago, has over 31 years of experience, including 20+ years in senior management and as executive public safety professional. He has a long list of successful implementations of technology and is best recognized for the passion he has for technology solutions.
Argiropoulos served as the First Deputy Director of the nation's second largest 911 - Homeland Security Center and led a team of operational and technical personnel to guarantee the successful execution of city-wide service offerings and Homeland Security solutions. He is nationally recognized as the most knowledgeable resource of the city-wide video surveillance system. He has deep experience in technical operations, budgeting and facility oversight. His dedication, determination and drive ensured Chicago's placement as the most technically advanced 911 - Homeland Security Center in the nation.
Argiropoulos commented that "I am very honored and excited to join SDR based on the amazing things SDR has accomplished as an industry leader. I am looking forward to leading the effort to expand the solutions portfolio, drive new market presence for both businesses and governments in data security solutions, business continuity, public safety technology planning and Homeland Security issues. I look forward to working with SDR's distinguished staff to create and respond to market opportunities as we continue our growth and global expansion."
Jim has earned several prestigious awards including the 2009 United States Secret Service Security Award and 2009 City Services Award for use of innovative technology and development of a forward command including satellite and video surveillance which was used to protect President-Elect Obama during his acceptance speech in Grant Park. He has received the prestigious 2009 Computer World Honors Program Public Sector Innovation Excellence Leadership Award honoring those who use information technology to benefit society. He was the recipient of Government Technology's top 25 Doer's, Dreamer's and Drivers Award and received recognition from the Joint Chiefs of Staff's office, Secretary of the U.S. Navy, Pentagon and NORAD as well as many other acknowledgments, citations and awards.
SDR's Chief Operating Officer Richard P. Concaildi commented "This strategic addition to the SDR leadership team will support our goal to expand SDR's market share and offerings for Homeland Security concerns and Emergency Operations Centers".
Jim has a charismatic personality which allows him to be an engaging and captivating speaker who regularly addresses audiences throughout the country on issues such as emergency preparedness and continuity, homeland security, technology innovations and emergency management preparedness. He is an active member of the Association of Public Safety Communications Officials (APCO), National Emergency Number Association (NENA), as well as being a former co-chair of the Illinois Terrorism Task Force and former member of the City of Chicago's Public Safety Consortium.
About SDR:
Secure Data Replicator, Inc. has corporate headquarters in Orland Park, IL. Past offerings have been targeted at large corporate entities and public sector clients both internationally and domestically. SDR solutions are unique to the industry and work in all major Windows environments on a single integrated platform. In March 2009, SDR announced its latest solution named SWOT, which is short to Secure WipeOut Technology and in December 2009 named Richard P. Concaildi as their Chief Operating Officer.
SDR's SWOT software allows portable devices to be backed up in real time, located in case of being stolen or lost, wiped out and restored based upon pre-set parameters including geo-fencing capabilities or unusual usage patterns. This is a patented software product recognized as being unique to the industry.
SDR's MyDataImage software protects small to medium size business (SMB) from data loss by using a scaled back version of the same software solution used to backup enterprise wide data centers. The software is capable of creating a mirror image of SMB data and restores them on demand.
Secure Data Replicator, Inc.
16350 So. 105th Court
Orland Park, Il 60462
http://www.sdrlive.com
###