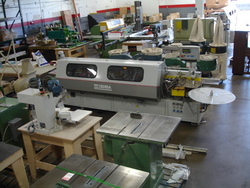 Online auctions have worked really well for us.
Tacoma, WA (PRWEB) October 1, 2010
Ehli Auctions announced that on behalf of the secured creditor it will hold an unreserved public auction for the assets of Corporate Casework, Inc. (formally located at 3033 S Lawrence Street, Tacoma). The auction will be conducted online only with all bids submitted through CyberAuctions.com; bidding closes October 7th, 2010.
Corporate Casework was founded in 1993 and once employed more than 60 people at the S Lawrence Street location. Over the years they produced countless cabinets on behalf of some of the area's largest companies including Microsoft, Weyerhaeuser, REI, and Nintendo.
This marks the 50th auction conducted at CyberAuctions.com in the last year. Ehli Auction President Randy Ehli said "Online auctions have worked really well for us the last few years. Buyers like the opportunity to participate in the auctions without the travel and time commitments required by live oral auctions. We have seen a marked increase in participation from buyers 200-400 miles away, these are bidders who normally would not have traveled to the auction."
The auction will include over $200,000 worth of equipment at original purchase price. Appraiser Chad Ehli said "This is an excellent opportunity for buyer's to purchase quality used equipment at great discounts." Auction highlights include a 2005 UD 24' box truck, a 2004 Cehisa EP-11 edgebander, a 2004 Giben Smart SP panel saw, and several other pieces of quality used woodworking equipment.
More information about Ehli Auctions or consigning to an upcoming auction can be found at http://www.cyberauctions.com.
Contacts:
Ehli Auctions
Randy Ehli 253-572-0990
randy(at)ehliauctions(dot)com
# # #