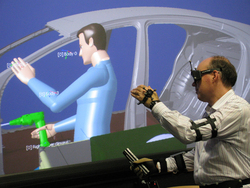 This is a partnership that makes sense for both our companies, ultimately delivering what our customers want and need.
San Jose, CA (Vocus) February 15, 2010
CyberGlove Systems, the worldwide leader in data glove technology, partners with HAPTION, a company known for incredible haptic hardware and software solutions for VR, CAD and PLM applications. HAPTION's Interactive Physics Simulation Interface (IPSI) API now supports the wireless CyberGlove II. Through IPSI, customers are able to add real-time physics calculation with a device, like the CyberGlove II, for manipulation within the VR or CAD environment. IPSI is used in HAPTION's implementation of physics manipulation for Dassault Systemes' CATIA, Delmia, Virtools and SolidWorks.
"I have always considered HAPTION a key partner. The fact that they have implemented support for CyberGlove in such a way validates our long-standing relationship. To have our product as a major component for hand manipulation in their human avatar for Dassault Systmes' various software suites is a testament to the value we offer to the market place," stated Faisal Yazadi, CEO of CyberGlove Systems. "This is a partnership that makes sense for both our companies, ultimately delivering what our customers want and need."
"What is great about our solutions is with our human avatar module, we can enable manikin manipulation," said Pierre Vercruysse, International Sales Manager, HAPTION. "You can activate the full body or part of the body with real-time manipulation, collision detection, recording and so on. With the addition of CyberGlove support, you now have very accurate hand and finger manipulation, grasping of virtual and real objects, really doing more natural interactions and operations. This is extremely important for high-end CAD and VR systems such as CATIA and Delmia, and we are the only ones that currently offer this."
For more information, contact Faisal Yazadi, CEO of CyberGlove Systems, at fyazadi (at) cyberglovesystems (dot) com.
CyberGlove Systems is the worldwide leader in data glove technology and offers the most sophisticated hand-centric motion capture solutions in the marketplace. CyberGlove Systems' products include four different data glove solutions (CyberGlove®, CyberTouch®, CyberGrasp® and CyberForce®) and its VirtualHand Software Development Kit (SDK). Its products allow users to capture detailed finger, hand, and arm movement in virtual reality, allowing users to interact with digital objects in virtual reality.
CyberGlove Systems technology benefits customers by allowing them to more quickly prototype and animate in virtual reality thereby saving them both time and money. Furthermore, CGS is the only data glove solution offering both kinesthetic force and vibrotactile feedback. This haptic technology benefits customers by simulating realistic physical forces such as gravity and touch for industrial engineering, military, and academic research applications. CGS customers include Fortune 500/Global 500 corporations, government agencies, and universities in the U.S., Europe, Asia, Middle East and South America.
Established in 1990, the CyberGlove® Systems family of products remains the most trusted and widely used data glove solution today with the very best customer support. In 2009, the CyberGlove business was divested by its former parent company, Immersion Corporation. The base CyberGlove® system is a wireless data glove that accurately captures the movement of a user's fingers and hand, and, in conjunction with the software, maps the movement to a graphical hand on the computer screen, allowing users to "reach in and manipulate" digital objects as if they were physical objects. The most sophisticated product, the CyberForce®, adds whole-arm force feedback allowing users to experience the complete sensation of object manipulation in virtual reality.
HAPTION designs, manufactures and sells 6DOF haptic devices and with professional quality, suited to the needs of its customers, both industrial and academic. Our products provide force-feedback on all 6 degrees-of-freedom (translations and rotations) on large scale 1 environment. Without 6-dof, it is impossible to simulate the interaction between 3D objects. The family name of the product are Virtuose® and Inca®. http://www.haption.com
HAPTION start in 2005 to deliver full suite of software to use Virtuose® and Inca® family in CAD software, for several application : assembly, disassembly, ergonomy, accessibility to accelerate the design process. The suite of software "Interactive Fitting" is available in Catia™, Delmia™, 3DVIA Virtools™, Solidworks™. Our solution is used by Boeing, Airbus, Lockheed Martin, Nasa, Thales Alenia, PSA, Renault, Dassault Aviation, Toyota, etc.
###