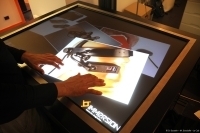 Awed by the iliGHT experience at the Laval show in France, I knew this device was revolutionary and I felt that CyberGlove Systems could help bring this extraordinary product to the Americas
San Jose, CA (PRWEB) September 28, 2009
CyberGlove Systems LLC, makers of the CyberGlove® family of data glove and haptic devices, and Immersion SA, makers of the iliGHT™ multitouch tactile table have announced a technological partnership that will bring the iliGHT to the Americas. CyberGlove Systems has signed a joint partnership agreement with Immersion SA to become the official reseller of the iliGHT tactile table in North and South Americas. This innovative device brings an intuitively easy-to-use group interface that makes collaborating more natural to users of the interactive table. The iliGHT is very flexible, allowing for a multitude of software tools such as Google Earth, photo manipulation and a paint program to interface with the device. Games can also be played with the iliGHT, such as Supreme Commander. Demonstation videos can be found here.
"Awed by the iliGHT experience at the Laval show in France, I knew this device was revolutionary and I felt that CyberGlove Systems could help bring this extraordinary product to the Americas," said Faisal Yazadi, CEO of CyberGlove Systems. By bringing the iliGHT to the Americas, CyberGlove Systems looks to greatly augment an already formidable line of motion capture and haptics products. This marks the first collaborative and complementary 3rd party hardware product offering from CyberGlove Systems.
For more information, contact Faisal Yazadi at CyberGlove Systems via email at fyazadi(at)cyberglovesystems(dot)com or visit Immersion SA's website at http://www.immersion.fr .
About CyberGlove Systems LLC
CyberGlove Systems is the worldwide leader in data glove technology and offers the most sophisticated hand-centric motion capture solutions in the marketplace. CyberGlove Systems' products include four different data glove solutions (CyberGlove®, CyberTouch®, CyberGrasp® and CyberForce®) and its VirtualHand Software Development Kit (SDK). Its products allow users to capture detailed finger, hand, and arm movement in virtual reality, allowing users to interact with digital objects in virtual reality.
CyberGlove Systems technology benefits customers by allowing them to more quickly prototype and animate in virtual reality thereby saving them both time and money. Furthermore, CGS is the only data glove solution offering both kinesthetic force and vibrotactile feedback. This haptic technology benefits customers by simulating realistic physical forces such as gravity and touch for industrial engineering, military, and academic research applications. CGS customers include Fortune 500/Global 500 corporations, government agencies, and universities in the U.S., Europe, Asia, Middle East and South America.
Established in 1990, the CyberGlove® Systems family of products remains the most trusted and widely used data glove solution today with the very best customer support. In 2009, the CyberGlove business was divested by its former parent company, Immersion Corporation. The base CyberGlove® system is a wireless data glove that accurately captures the movement of a user's fingers and hand, and, in conjunction with the software, maps the movement to a graphical hand on the computer screen, allowing users to "reach in and manipulate" digital objects as if they were physical objects. The most sophisticated product, the CyberForce®, adds whole-arm force feedback allowing users to experience the complete sensation of object manipulation in virtual reality.
About Immersion SA
Immersion is the European specialist for tailored turnkey visual simulation and virtual reality solutions. Immersion designs new solutions and methods of interaction and visualization for the future multimodal virtual environments, and delivers stereoscopic display rooms, high pixel-density image walls, multi-face immersive environments and real-time 3D visual simulators.
The company brings a unique end-to-end support to its customers throughout the project life. Immersion references include famous brands such as LVMH, PSA Peugeot Citroën, Renault, CEA, IRIT, the LABRI, the French Air Army, EADS Astrium, Airbus, Eurocopter and CS.
Immersion participates in key European research projects on virtual reality and augmented reality.
###