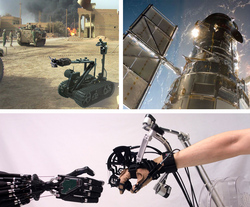 I am proud to work with companies that make an effort to save lives
San Jose, CA (PRWEB) November 30, 2009
It has been said that necessity is the mother of invention. With the present conflict in Afghanistan and the increased use of improvised explosive devices (IEDs) on the battlefield, a safer method of defusing IEDs needed to be created. Shadow Robot Company approached the UK's Ministry of Defense with a proposal to create a teleoperated robotic hand connected to a robot that would enable soldiers in the field to safely defuse IEDs through a remote wireless connection. Shadow needed a way to control their robot hand, and Inition UK provided the ideal solution, in the form of the CyberGlove Systems CyberGlove®. With the CyberGlove, soldiers can defuse IEDs from a safe distance, away from the blast zone and out of harms way.
"I am proud to work with companies that make an effort to save lives," said Faisal Yazadi, CEO of CyberGlove Systems. "Inition and Shadow Robot have definitely taken a novel approach to a very serious problem. For Inition and Shadow Robot to choose the CyberGlove for this endeavor, it shows that our product is accurate and reliable enough to handle the intense demands of robotic IED disposal. I'm also excited at the possibilities of other uses for this robotic system, such as remote handling of hazardous materials and remote repairs to places that are impossible for humans to safely reach."
The UK Ministry of Defense has been testing the device for the past 6 months and is looking to bring capabilities based on it into service as soon as it is proven.
For more information, please contact Faisal Yazadi, CEO of CyberGlove Systems, at fyazadi(at)cyberglovesystems.com, Jeff Ferguson at Inition at jeff.ferguson(at)inition.co.uk, or Rich Walker, MD of Shadow Robot Company, rw(at)shadowrobot.com.
About CyberGlove Systems LLC (http://www.cyberglovesystems.com)
CyberGlove Systems (CGS) is the worldwide leader in data glove technology and offers the most sophisticated hand-centric motion capture solutions in the marketplace. CyberGlove Systems' products include four different data glove solutions (CyberGlove®, CyberTouch®, CyberGrasp® and CyberForce®) and its VirtualHand Software Development Kit (SDK). Its products allow users to capture detailed finger, hand, and arm movement in virtual reality, allowing users to interact with digital objects in virtual reality.
CyberGlove Systems technology benefits customers by allowing them to more quickly prototype and animate in virtual reality thereby saving them both time and money. Furthermore, CGS is the only data glove solution offering both kinesthetic force and vibrotactile feedback. This haptic technology benefits customers by simulating realistic physical forces such as gravity and touch for industrial engineering, military, and academic research applications. CGS customers include Fortune 500/Global 500 corporations, government agencies, and universities in the U.S., Europe, Asia, Middle East and South America.
Established in 1990, the CyberGlove® Systems family of products remains the most trusted and widely used data glove solution today with the very best customer support. In 2009, the CyberGlove business was divested by its former parent company, Immersion Corporation. The base CyberGlove® system is a wireless data glove that accurately captures the movement of a user's fingers and hand, and, in conjunction with the software, maps the movement to a graphical hand on the computer screen, allowing users to "reach in and manipulate" digital objects as if they were physical objects. The most sophisticated product, the CyberForce®, adds whole-arm force feedback allowing users to experience the complete sensation of object manipulation in virtual reality.
About Shadow Robot Company (http://www.shadowrobot.com)
The Shadow team has been developing state of the art robotic components and systems since 1987. The Company was formed in 1997 to exploit commercial opportunities, and today supplies advanced robots to organisations all over the world, including space agencies, government departments and leading universities.
Shadow's key technology is the Dextrous Hand, which provides a robot with the same movement capabilities as the human hand. This can replace humans in difficult, dirty or dangerous tasks, as well as opening up entirely new areas for advanced robotics.
About Inition UK (http://www.inition.co.uk)
Formed in 2001, Inition is a cutting-edge centre of 3D expertise and technology. Inition has an unrivalled knowledge and product portfolio of all things 3D. Their services are streamed into three main areas:
Inition 3D Productions: 3D film and interactive content production and technology -
3D Film Production - CGi and Live Action stereoscopic content for 3D displays
Interactive Content - Cutting-edge interactives; the latest in bespoke immersive and experiential 3D technology
3D Displays - The most advanced 3D displays from 3D TVs to large screen 3D digital projection
MagicSymbol - 3D in your hand; interactive technology with a huge wow factor.
Product Centre: Unrivalled range of 3D and VR products -
Demo Studios in central London and Melbourne, Australia
Stereoscopic 3D displays
Head-mounted displays
3D input devices
Motion capture & tracking
VR gloves
Force-feedback / Haptics
Software tools
3D graphics cards
ThingLab - Experts in 3D printing and 3D scanning... Full solutions and services -
3D printing - real physical models from 3D CAD data
3D scanning - 3D CAD data from real-world models
Hardware sales, consultancy and bureau work
The team at Inition is key to our success, drawing on the best creative and technical skills available. With a proven industry track record Inition is constantly redefining what is possible with today's computers and expanding the state of the art.
###