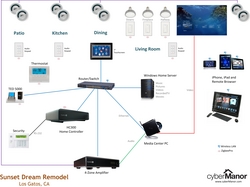 Given the phenomenal success of the Apple iPad, we knew that if we married this interface with the control of the home's TVs, audio system, lights, and heating system that we would capture the interest of the guests of the Sunset Home.
Los Gatos, CA (PRWEB) July 23, 2010
Sunset Magazine's latest Idea House is a Dream Remodel that opens today for the first time to the public and will remain open on weekends until August 15th. This year, Sunset Magazine, in cooperation with cyberManor, is introducing the latest smart home technology for entertainment, comfort, and control with the utilization of an Apple iPad. cyberManor's installation of the home automation system allows for total home control of the Sunset Dream Remodel's audio system, TVs, lights, and heating system.
cyberManor integrated and deployed the HP and Control4 family of hardware and software products to provide a seamless, reliable, and easy to use method for the control of the electronic home entertainment, lighting and comfort equipment. Guests of the home will see how the easy-to-use Apple iPad, touch screen panels, and keypads can greatly simplify the use and enjoyment of the home's networked entertainment and comfort products.
In addition, guests will be able to see the minute by minute electrical usage of the home in a real time dashboard that will display how cyberManor's integration of these automated home control solutions can significantly reduce electricity consumption and save money.
cyberManor has been one of the leading home technology integrators in custom homes in the San Francisco Bay Area for over 10 years. In 2008 they won Microsoft's Prestigious National Ultimate Home of the Year for a project that was completed in Sunnyvale, California. Their integration expertise is on display again as they showcase the latest advancements in electronic home entertainment, comfort, and control solutions in this new Sunset Idea Home. A video of these solutions in the Sunset Home can be seen on the cyberManor website.
According to Gordon van Zuiden, cyberManor's President and Founder, "This is our 4th Sunset home with deMattei Construction and we wanted to do something special for Sunset and the dream home builder. Given the phenomenal success of the Apple iPad, we knew that if we married this interface with the control of the home's TVs, audio system, lights, and heating system that we would capture the interest of the guests of the Sunset Home. We have found over the years that our clients love the smart home technologies that we install and integrate in their homes, but if it isn't extremely easy for each family member to use then many of the benefits of the technology are never realized. The Apple iPad creates a very exciting and compelling new way for homeowners to enjoy their whole house audio, TV and lighting experiences."
Sunset magazine is known for the success of their Idea Homes over the years and for introducing homeowners to very creative ways in which to decorate and remodel their own homes. Kathleen McCalligan, Home Programs Director, at Sunset Magazine explains:
"cyberManor has been our technology partner for three previous Sunset Idea Homes and we knew that when we approached them to provide an innovative and affordable total home control solution for our Dream Remodel they would add an exciting new integrated home control solution that would captivate our technology-savvy guests. The HP and Control4 media management and home automation products, integrated with the ease of use of the Apple iPad interface, are a perfect solution for our reader's own homes."
For more information about the Sunset Home Dream Remodel, visit the website or check it out in the magazine's October edition.
For more information about cyberManor projects and testimonials, visit http://www.cybermanor.com or read their blog at http://www.cybermanor.blogspot.com.
About cyberManor:
cyberManor is a full service home technology integrator headquartered in Los Gatos, California. cyberManor was founded in the summer of 1999, one of the nation's first custom electronic integrators to focus on IP based technologies for the home. The company's mission is to design, install, and integrate Internet-empowered home networking solutions that enhance the entertainment, communications, and comfort of their client's homes.
About Sunset Magazine:
Sunset magazine is the premier guide to life in the West, covering the newest and best ideas in Western home design and landscaping, food and entertaining, and regional travel in 13 Western states. Sunset and Sunset.com are part of the Lifestyle group of magazines and websites published by Time Inc., the largest magazine publisher in the U.S., and a leading publisher in the U.K. and Mexico.
About Control4:
Control4, a leading provider of the operating system for the smart home, delivers intelligent control of consumer electronics products, appliances and networking systems through an easy-to-use and intuitive software interface. Founded in 2003, the company delivers affordable automation and control of lighting, music, video, HVAC, security, and energy management systems to the broad market through more than 1,600 custom integrators, retail outlets, and distributors in over 40 countries. Control4 is the platform of choice for major consumer electronics companies, hotels, businesses and utilities that require an intelligent, open and affordable control solution.
About HP:
HP is a technology company that operates in more than 170 countries around the world. HP explores how technology and services can help people and companies address their problems and challenges, and realize their possibilities, aspirations and dreams. We apply new thinking and ideas to create more simple, valuable and trusted experiences with technology, continuously improving the way our customers live and work.
# # #