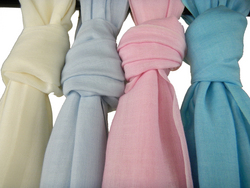 Cyber Monday gives us a chance to amplify our value pricing and convenient service even further for busy holiday shoppers.
Houston, TX (PRWEB) November 17, 2010
The Pashmina Store, one of the largest online retailers of 100% pure, Grade A cashmere, today announced extra-value pricing for its annual, store-wide Cyber Monday Sales Event. On November 29, 2010 holiday shoppers will be able to enjoy 10% off on all purchases of $30 or more, along with free shipping and an extended return and exchange policy, which runs through January 15, 2011. The coupon code for the 10% discount is 'Holiday' and is valid through Monday, December 6, 2010.
Popular holiday gift items that will be on sale include pure cashmere hats, gloves, socks and scarves for under $30 each; a yellow pure cashmere baby blanket for only $59.99, a black 3-ply shawl for only $74.99 and a dark chocolate pure cashmere men's scarf for only $59.99. These and many other reduced-priced items can be found in the Specials section on The Pashmina Store's website, located at http://www.ThePashminaStore.com. The company also offers a range of gift certificate options, which can be redeemed all at once or over time.
"Cyber Monday gives us a chance to amplify our value pricing and convenient service even further for busy holiday shoppers," said Blair Rhodes, co-owner of The Pashmina Store. "Our expanded inventory, new styles and colors allow customers to really take advantage this year with our widest product selection ever."
The Pashmina Store recently launched several new product lines including the sheer, lightweight Water pashmina stole, perfect year-round wear, and the richly-textured Basket weave style just in time for winter warmth. Additionally, the company is anticipating the biggest online shopping season in years, in line with ecommerce industry growth estimates and expects to hire more employees in 2011.
"We're seeing first-hand the trend of shoppers being more willing to purchase luxury goods this season, but customers are still looking for the kind of value The Pashmina Store offers. Our sales are up 9% versus this time last year and we expect to do even better as we get closer to the holidays," said Rhodes.
About The Pashmina Store
Since 2001, The Pashmina Store has been proud to offer the finest quality pure pashmina and pashmina/silk blend shawls, wraps, scarves and cashmere blankets. Customers enjoy the entire experience with quality products at exceptional values, free standard shipping in the U.S from Texas, and a satisfaction guarantee.
###