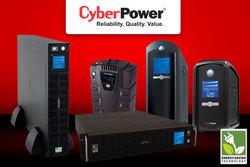 We're excited about the continued growth and demand of our products in the expanding Latin American market
Minneapolis, MN (PRWEB) October 2, 2009
CyberPower Systems, Inc. (http://www.cpsww.com), one of the fastest growing power protection manufacturers worldwide, today announced the opening of its new facilities in Mexico City, Mexico. "We're excited about the continued growth and demand of our products in the expanding Latin American market," explains Dan Ayala, Vice President of Worldwide Sales with CyberPower Systems (USA). "The Latin American region represents a natural expansion of our growing business in the Americas. CyberPower has experienced increased demand in the region and we are responding aggressively to support the reseller community with sales, service, support and technical assistance."
Headed up by Ricardo Mones, CyberPower's General Manager - Mexico, the new location continues CyberPower's worldwide growth and allows the company to better serve its expanding customer base in Mexico. Mr. Mones has over 15 years of experience in the UPS/Power industry.
About CyberPower Systems, Inc.:
CyberPower Systems, Inc. designs, manufactures, and markets state-of-the-art power protection equipment for corporate, business, home, government and educational markets. CyberPower is an industry leader by surpassing customer expectations in the development, design, construction, durability and functionality of uninterruptible power supply (UPS) products for computers, peripherals and connected devices. CyberPower Systems operates in the Asian Pacific, North American, and European markets. To learn more, visit cpsww.com.
# # #