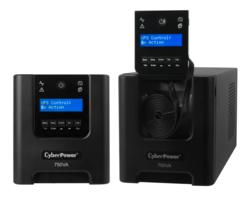 The removable LCD control panel feature, which is unique to CyberPower's Smart App PR750LCD, is the most user friendly feature available on any UPS system in the market today.
(PRWEB) October 26, 2011
CyberPower Systems, a leading technology manufacturer in the power protection industry, today announced the introduction of the first model in an advanced pure sine wave UPS series, Model PR750LCD. Designed for corporate servers and networking equipment, this unit features a unique LCD control panel which can be removed and relocated for easy access to check status and set user parameters.
This unit is like no other in the industry, in that it allows the user to remove and relocate the LCD control panel up to 4 ½ feet from the UPS system to monitor up to 11 different status options or manage one of the 23 different setup and control settings.
"This feature, which is unique to CyberPower's Smart App PR750LCD, is the most user friendly feature available on any UPS system in the market today,"says Tim Derochie, Director of Product Management. "IT managers can now access all UPS systems in the data centers easily, regardless of their location, allowing for quick and efficient power supply management."
In addition to the status and control options, the Smart App PR750LCD provides options for self testing and checking event logs at the UPS for a total of 41 different settings.
This UPS unit incorporates microprocessor-based fully digital control and includes PowerPanel Business Edition providing the user unsurpassed flexibility and control. An optional SNMP/HTT Remote Management adapter provides remote management and control of the PR750LCD through a standard web browser. A Three-Year Warranty ensures that this UPS has surpassed our quality standards in design, assembly, material or workmanship. CyberPower offers further protection with a $375,000 Connected Equipment Guarantee.
The CyberPower Smart App Sinewave PR750LCD mini-tower uninterruptable power supply (UPS) with LCD Control Panel and pure sine wave output is Active PFC compatible for safeguarding mission-critical servers, telecom equipment, VoIP and internet working hardware that requires seamless pure sine wave power. Its full Automatic Voltage Regulator (AVR) boost/buck (trim) function delivers a consistent and clean AC power, protecting connected equipment and preventing costly business interruptions. Patented GreenPower UPS advanced circuitry reduces UPS energy costs by up to 75%.
The Smart App PR750LCD unit has a capacity of 750 VA/525 Watts, six NEMA 5-15R receptacles and two maintenance-free, easy to access replaceable 12V/7.0ah batteries. This unit offers connectivity via one HID USB, one DB9 serial port and one emergency power off (EPO) port. EMI/RFI high capacity filters protect all connected equipment for noise interference.
To learn more about CyberPower Systems' innovative products and award winning power protection solutions, visit http://www.cyberpowersystems.com or call (877) 297-6937.
About CyberPower Systems, Inc.
CyberPower Systems, Inc. was founded in 1997 with a focus on innovation and reliability. Today, CyberPower has been awarded 90+ patents, has won numerous industry awards, has achieved ISO 9001 Certification for its state-of-the-art manufacturing processes and products are tested to UL1778 (USA); Tested to CSA (Canada); Tested to NOM (Mexico); Meets FCC Part 15 Category A (EMI). Designing and manufacturing power protection and power distribution equipment for corporate, business, home, government and educational markets, CyberPower now operates in the North American, Latin American, Asian Pacific, and European markets.
Press Contact:
Sharla Wagy
Vice President, Marketing
CyberPower Systems
(877) 297-6937
swagy(at)cpsww(dot)com
###