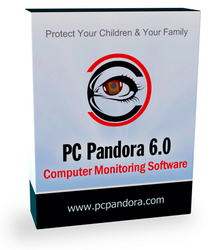 Every family needs to take protective measures to avoid falling victim to identity theft, phishing scams and cyber attacks
Las Vegas, NV (Vocus) October 12, 2010
This October marks the 7th annual Cyber Security Awareness Month, as declared by the National Cyber Security Alliance (NCSA). Pandora Corp., maker of PC Pandora 6.1 computer monitoring software, is reminding parents that part of keeping the family safe online is knowing what the younger surfers are doing while connected to the internet.
"Every family needs to take protective measures to avoid falling victim to identity theft, phishing scams and cyber attacks," says Jamie Leasure, co-founder of Pandora Corp. "But these practices need to continue year-round, as does monitoring how your children are using the Internet."
Two key issues – cyberbullying and Internet predators – grab most of the headlines when it comes to child Internet safety. Leasure says being aware of how our kids represent themselves online, how they treat others, and who their friends are can help reduce dangerous and disastrous incidents.
"The key is parental awareness," he says. "When you know for sure what your kids are doing on the Internet, you have a much better chance of keeping them safe."
CYBERBULLYING STOPS HERE:
In the year since the last Cyber Security Awareness Month, the country has been shocked by a rash of teenage suicides, all pointing to endless, fierce cyberbullying as the driving force and reason for the act.
"Phoebe Prince, Alexis Pilkington and Tyler Clementi are just some of the names we have seen and read about, all resulting in a tragic loss that could have been prevented," says Leasure.
Leasure says cyberbullying is here to stay until parents of the bullies take action.
"Cyberbullying thrives on anonymity," he explains. "Not only are the bullies anonymous online, but they are working in secret in their own homes. Cyberbullying won't stop until that parents of the bullies are aware of what their children are doing online, and care enough to step in and stop it."
PC Pandora monitoring software will let parents know if their child is acting as an aggressor to a peer or fellow student, or enabling the bullying by passing the information along.
STOP INTERNET PREDATORS:
While cynics and experts dismiss Internet predators as overhyped media sensationalism, stories continue to surface every week of predators arrested in law enforcement sting operations and caught with real teens. One of the most recent stories that deserves special attention is the "Kid-nap/ rape hoax" in San Diego.
According to ABC News, a 20-year-old man in southern California befriended a 15-year-old girl online through the website, Mocospace. The two carried out a relationship that eventually lead to consensual sex. The girl felt guilty and decided to create an "elaborate kidnapping and assault story" to cover her actions.
"The main message here is that talking just isn't enough," explains Leasure. "The girl admits her parents had talked to her about the dangers online, but she disregarded their warnings, took things dangerously too far, felt guilty, and then made things worse by creating a horrible lie. As shocking as it is, taking risks like this and not listening to mom and dad is completely normal teen behavior. That's why in the digital age, talking isn't enough; monitoring Internet activity could have helped prevent this unfortunate event."
HOW IT WORKS:
PC Pandora 6.0 is computer monitoring software that records all user activity through sequential screen snapshots, allowing parents to visually see everything their kids are doing online. The program also records activity in text-based files that capture all emails sent and received, instant messenger conversations, websites visited, programs accessed, peer-to-peer files shared, keystrokes logged, Internet search queries, printer logs, and more.
For parents that have to work and can't be home right after school, PC Pandora comes equipped with the IRIS feature, which sends the recorded text-based files to a parent's email at specified intervals. The new PC Pandora LIVE! takes things a step further and allows parents to review the data and adjust settings on the monitored computer from a remote Internet connection.
"We really hope parents use this month to double-check and update their PC's security," concludes Leasure. "Part of that includes making sure they have a program in place to monitor what their children are doing online. PC Pandora is a vital weapon for parents in the battle for Internet safety."
For tips on how to keep your children safe from online predators and help stop cyberbullying in its tracks, visit http://www.pcpandora.com.
About PC Pandora: Pandora Corporation was formed with one goal – to help our customers monitor, control and protect their families and themselves online. First released in mid 2005, PC Pandora has been constantly upgraded to industry-leading specifications and has received accolades from users, reviewers and even school districts and law enforcement agencies, who use the program to help in the day-to-day supervision of the children and citizens they are charged with protecting. The company website devotes space to helping parents by providing them with 18 Tips to Safe Surfing and Pandora's Blog, where current news in the world of online safety is discussed regularly. In addition, the Pandora Corp. has made the PD Pandora Internet Safety Symposium available to schools and law enforcement as a free resource for spreading internet safety awareness to parents. Over the past few years, PC Pandora has vaulted into a leadership position for parental control software by boasting a combination of features that are unparalleled in the monitoring industry. In 2010, Version 6.0 was released, again widening the spectrum of coverage and protection offered by the program. Concurrently released with 6.0, the web-based PC Pandora LIVE! service affords parents the ability to keep their kids safe from anywhere at anytime. PC Pandora is also now available through the Pandora Corp. store at Amazon.com.
Reporters and Producers: Covering Internet safety? We are your technology solution component. Software is available to journalists for review and testing. Executives are available for interviews. Let us help you show your audience how easy it can be to keep their kids safe on the Internet.
###