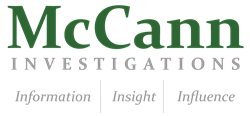 Houston, TX (PRWEB) January 16, 2013
McCann Investigations, a Texas-based private investigations firm released a new video to accompany its case study titled Cyber Stalking and Spyware in Divorce Cases. Divorces can often become so contentious that warring spouses will go to any means to gain the upper-hand in the settlement. Spyware and key loggers that used to be only available to governments and corporations are now inexpensive and easily accessible to even the most novice computer user. Not only are monitoring applications more prevalent, GPS and physical listening devices are available for amateur spies. Emails, text messages and images as well as social media sites such as Facebook and Twitter are becoming key sources of evidence in divorce cases. The installation of spyware and key loggers is becoming more and more common, a real possibility and no longer in the realm of the paranoid or crazy.
"We often get many clients who believe that their computers have been compromised. In a lot of these cases, there is no evidence of spyware," says Daniel Weiss, Managing Partner at McCann Investigations. "What we are seeing more of are clients with spyware issues who are involved in divorce cases and really do have spyware and key loggers installed on their computers and smart phones."
Using technology to gain the upper hand in a divorce settlement appears to be a growing trend. McCann Investigations implements counter measures to not only ensure that the spyware threat has been mitigated, but will prevent future cyber attacks from a soon to be ex-spouse or any other malicious third party.
About McCann Investigations:
http://www.mccanninvestigations.com
Facebook: https://www.facebook.com/McCannInvestigations
Twitter: @mccanngi
Call us toll-free at 800-713-7670
McCann Investigations is a full service private investigations firm that specializes in computer forensics (including mobile device forensics), digital debugging, network breach detection and remediation as well as traditional private investigations such as under cover work, surveillance and comprehensive background investigations.
McCann Investigations works with law firms, public and private companies, financial companies and individuals with cases such as divorce, child custody, fraud, embezzlement, digital debugging, intellectual property theft and network breach.