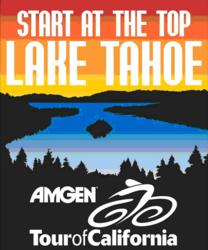 Lake Tahoe, Calif/Nev (Vocus/PRWEB) March 09, 2011
For businesses looking for exposure with active domestic and international market audiences, the opportunity is the Amgen Tour of California and the time is now. The largest sporting event hosted in California includes 27 hours of national television coverage and live broadcasts outside the U.S. in more than 90 countries and billions of worldwide impressions from television, print and online sources.
With the tour's Stage 1 Start, Finish and Stage 2 Start at Lake Tahoe, The Lake Tahoe Visitors Authority and North Lake Tahoe Resort Association are organizing sponsorship efforts. The Amgen Tour of California is expected to provide one of greatest financial impacts to the Tahoe basin in years. Based on previous races, the annual economic impact to the state of California is estimated to be $100 million with Lake Tahoe organizers anticipating a local impact of $5 – 10 million resulting from 10 days of events leading up to the race start on May 15. For Lake Tahoe, hosting the tour is about telling the world that the area is a remarkable cycling destination.
The Local Organizing Committee (LOC), comprised of business and marketing leaders, has been meeting since October to organize, promote and secure sponsors. The LOC has also created a "Tahoe 10-Day Countdown to the Tour" calendar of events beginning May 5, to celebrate the tour in Lake Tahoe.
The five levels of local sponsorships range from the coveted Yellow Jersey at $25,000 to the White Jersey at $1,000. Amenities include tickets to the Amgen Tour of California Dinner Gala and Team Introductions; registrations for the Lake Tahoe Legends Ride; access to VIP Hospitality; VIP parking at each of the stages; signed jerseys; lodging; inclusion in big screen commercials, direct mail collateral, social media and web site exposure. For more information visit http://www.TahoeAmgenTourofCalifornia.com or contact the local sponsorship sales organizer, Michael Milthorpe: michaelmilthorpe(at)milthorpesports(dot)com, (386) 673-4377.
Stage 1 of the race is presented by Michelob Ultra, and Stage 2 by the California Travel & Tourism Commission (CTTC).
Local sponsors for Lake Tahoe Stages include: Korbel California Champagne, Tahoe Center for Orthopedics at Barton Health and Sacramento County Airport.
Local supporters include: MontBleu Resort Casino & Spa, Harrah's/Harveys, Embassy Suites Hotel & Resort, Northstar-at-Tahoe, Resort at Squaw Creek, The Ritz-Carlton Lake Tahoe, the Village at Squaw, Forest Suites, Squaw Valley Lodge, Hyatt Regency Lake Tahoe, Heavenly Mountain Resort and Squaw Valley USA.
Area media supporters include: KRNV-TV - Reno's NBC affiliate, KTHO radio, Lake Tahoe Action Magazine, Outside Television's Lake Tahoe TV and Tahoe Quarterly.
"A major event that kicks off at South Shore means one thing: get ready for it to be done like never before," said Carol Chaplin, executive director of the Lake Tahoe Visitors Authority. "South Shore will show race fans that we know how to celebrate. They'll go home with plenty of stories to brag about."
"The Amgen Tour of California is the largest event to ever hit Lake Tahoe," said Director of Tourism Andy Chapman of the North Lake Tahoe Resort Association. "And local businesses and organizations can absolutely be involved. From hosting community cycling events to sponsoring the Lake Tahoe routes for as little as $500 to $1,000, there are plenty of ways to maximize your participation and cash in on the thousands of spectators expected to attend the Tour."
The 2011 Amgen Tour of California will cover 800 miles and visit 15 Host Cities for official stage starts and finishes, while other cities along the route also will have the opportunity to witness the excitement of elite professional cycling. Stages for the 2011 Amgen Tour of California include:

Stage 1: Sunday, May 15 – South Lake Tahoe to North Lake Tahoe-Northstar at Tahoe Resort
Stage 2: Monday, May 16 – North Lake Tahoe-Squaw Valley USA to Sacramento
Stage 3: Tuesday, May 17 – Auburn to Modesto
Stage 4: Wednesday, May 18 – Livermore to San Jose
Stage 5: Thursday, May 19 – Seaside to Paso Robles
Stage 6: Friday, May 20 – Solvang Individual Time Trial
Stage 7: Saturday, May 21 – Claremont to Mt. Baldy
Stage 8: Sunday, May 22 – Santa Clarita to Thousand Oaks
For best viewing points, where to catch the riders up close, a complete list of events (including the Tahoe 10-Day Countdown leading up to the race) and lodging accommodations, click to http://www.TahoeAmgenTourofCalifornia.com follow us on Twitter and Facebook. For details about the Tour and information about volunteering, visit http://www.amgentourofcalifornia.com.
The Amgen Tour of California Media Contacts:

AEG: Michael Roth; 213-742-7155; mroth(at)aeg-la(dot)com
GolinHarris: Erin Barrier; 213-438-8707; ebarrier(at)golinharris(dot)com
Lake Tahoe Sponsorship Contact:

Les Pedersen, lpedersen(at)destinationhotels(dot)com,
Michael Milthorpe, michaelmilthorpe(at)milthorpesports(dot)com, (386) 673-4377
Lake Tahoe Interview Contacts:

Carol Chaplin, Executive Director, Lake Tahoe Visitors Authority: carol(at)ltva(dot)org, 775-588-5900 ext. 302, 775-790-5787 (cell)
Andy Chapman, Tourism Director, North Lake Tahoe Resort Association: andy(at)puretahoenorth(dot)com, 530-581-8709, 530-448-9992 (cell)
Lake Tahoe Media Contacts:

Phil Weidinger or Jenn Boyd, Weidinger Public Relations, 775-588-2412, 702-278-1932 (cell) jennifer(at)weidingerpr(dot)com
Pettit Gilwee, Pettit Gilwee Public Relations, 530-525-1164, 530-412-2077 (cell), pettit(at)gilweepr(dot)com
About the Amgen Tour of California
The largest cycling event in America, the 2011 Amgen Tour of California is a Tour de France-style cycling road race, presented by AEG, that challenges the world's top professional cycling teams to compete along a demanding course from May 15-22, 2011.
About Amgen
Amgen discovers, develops, manufactures and delivers innovative human therapeutics. A biotechnology pioneer since 1980, Amgen was one of the first companies to realize the new science's promise by bringing safe and effective medicines from lab, to manufacturing plant, to patient. Amgen therapeutics have changed the practice of medicine, helping millions of people around the world in the fight against cancer, kidney disease, rheumatoid arthritis, and other serious illnesses. With a deep and broad pipeline of potential new medicines, Amgen remains committed to advancing science to dramatically improve people's lives. To learn more about our pioneering science and vital medicines, visit http://www.amgen.com.
About AEG
AEG is one of the leading sports and entertainment presenters in the world. AEG, a wholly owned subsidiary of The Anschutz Company, owns or controls a collection of companies including facilities such as STAPLES Center, The Home Depot Center, Sprint Center, The O2, Nokia Theatre L.A. LIVE and Times Square's Best Buy Theater; Square; sports franchises including the Los Angeles Kings (NHL), two Major League Soccer franchises, two hockey franchises operated in Europe, management of privately held shares of the Los Angeles Lakers, the Bay to Breakers foot race and the Amgen Tour of California cycling road race; AEG LIVE, the organization's live-entertainment division, is a collection of companies dedicated to all aspects of live contemporary music performance, touring and a variety of programming and multi-media production. For more information, visit AEG today at http://www.aegworldwide.com.
About the Lake Tahoe Visitors Authority
Set at 6,300', South Lake Tahoe is the only destination in the country that combines two strikingly different worlds: spectacular natural beauty and desirable resort amenities. The combination of outdoor summer activities includes hiking, biking, kayaking, golfing, swimming, fishing and boat cruises along with 24-hour nightclubs, fine dining, gaming and entertainment. For information about lodging, recreation and family packages at Lake Tahoe South Shore, call the Lake Tahoe Visitors Authority, 1-800-AT-TAHOE (1-800-288-2463) or log onto http://www.TahoeSouth.com.
About NLTRA
North Lake Tahoe is a 45-minute drive from the Reno Tahoe International Airport, two hours from Sacramento International Airport and just over three hours from San Francisco International Airport. For lodging reservations, recreation and event details, call North Lake Tahoe at 1-877-949-3296 or visit http://www.GoTahoeNorth.com. Visitor information centers are located at 380 North Lake Boulevard in Tahoe City and 969 Tahoe Boulevard in Incline Village. The North Lake Tahoe Visitors Bureaus, Incline Village Crystal Bay Visitors Bureau and the North Lake Tahoe Resort Association, work together to promote North Lake Tahoe as a premier, year-round destination.
###