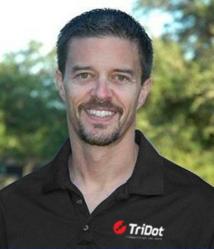 Genuine Innovations is thrilled to continue our partnership with TriDot. Like Genuine Innovations, TriDot is dedicated to pursuit of excellence
Dallas, TX (PRWEB) August 29, 2012
TriDot announced sponsorship with Genuine Innovations. Genuine Innovations has continually established themselves as the world leader in high pressure valve technology design and manufacturing. TriDot is the innovator of the first and only triathlon training system that uses a methodical process based on actual athlete training and race data. Its Triathlon Training programs allow athletes to maximize their race results per hour of training invested.
Genuine Innovations was not only selected as the official TriDot sponsor because of their history as visionaries and innovators but also due to their quality, service, and athlete focus. "At TriDot, we're committed to delivering only the best quality available," says TriDot CEO and Founder Jeff Booher. "Training and racing equipment is no different. Our athletes are devoted to their training and expect race results to show it. They depend on their equipment to be reliable and highly functional. That's what you get with Genuine Innovations. They're committed to innovating and leading the industry and their products show it. We've very please to be working with them."
Michael Drabousky, Communications Director states, "Genuine Innovations is thrilled to continue our partnership with TriDot. Like Genuine Innovations, TriDot is dedicated to pursuit of excellence. No goals can be reached without hard work and dedication. We are honored to be included in their training system".
Genuine Innovations pioneered the powered inflation category worldwide. As part of their collective focus and commitment to continuous improvement, they regularly set new standards for safety, reliability, and ease of use by which all other products in the category are measured.
About TriDot
The TriDot® System is a one-of-a-kind, patents-pending triathlon training and racing system developed based on extensive and ongoing primary research since 2004. The TriDot® System's Intelligent Design Process (IDP) is a data-driven process that produces optimized training programs built for each athlete that deliver maximum results per training hour invested (Result: more performance gains and/or less training time). Serving beginners to professionals, the TriDot® System takes the guesswork out of triathlon training and racing.
This Press release was created and distributed on behalf of TriDot by Prism Communications Inc. Prism Communications is a full service internet marketing company that cuts through the myriad of internet marketing tactics and develops a coherent strategy for companies looking to grow their online presence. To learn more about Prism Communications, or to contact them for a free consultation for internet marketing solutions, email them at sam(at)prism-communications(dot)com.