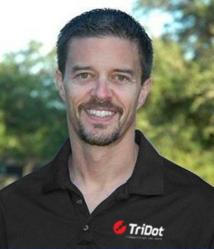 It's been a pleasure to work with Gemini who's just as fanatical about their customer service as they are their product quality
Dallas, TX (PRWEB) August 15, 2012
TriDot announced sponsorship with Gemini Lights. Gemini Lights is a new leading contender in the high performance LED bike light industry. TriDot is the innovator of the first and only triathlon training system that uses a methodical process based on actual athlete training and race data. Its Triathlon Training programs allow athletes to maximize their race results per hour of training invested.
Gemini Lights was not only selected as the official TriDot sponsor because of their history as innovators but for their methodology in creating a product that is researched rigorously and tested to ensure that the athlete is given the best tools to compete.
Chris Lai, General Manager of Gemini Lights states, "We have been a proud sponsor for Tri4Him athletes since 2011, and now we are excited to support TriDot, an innovative, research-proven training system designed to endow athletes with the highest performance results. Gemini Lights shares the same passion and goal to pursue the greatest in all of us. Whether athletes train at the break of dawn or during the heart of winter, we strive to give you the best lighting equipment to guide your way through the darkness safely and reliably. Our commitment to you is to craft a durable, lightweight and powerful light to enhance your training experience."
"TriDot is committed to providing our athletes with only the best when it comes to triathlon training programs and equipment," says TriDot CEO and Founder Jeff Booher. "Many of our athletes frequently find themselves training very early in the morning to fit training into their busy lives. This is a huge safety concern you really rely on your equipment. It's been a pleasure to work with Gemini who's just as fanatical about their customer service as they are their product quality. Our entire organization has nothing but great things to say on both accounts."
About Gemini Lights
Gemini Lights brings you top-notch performance lights opening your world to night biking, skiing and extreme adventure sports. Gemini Lights is committed to providing riders with functional and durable cycle lights to make night riding a safe and enjoyable experience. Building and testing products is something they are meticulous about and take great pride in. Having recruited only the top experts in the field, Gemini Lights engineer products with creativity, innovation, and perfect execution. Says Gemini Lights, "Our commitment to you is to deliver a light that you are proud to be an owner of. We know the amount of love and joy you give to your bikes and beloved components. Whether you use your lights for commuting or mountain biking, we understand it is an essential part of your riding experience."
About TriDot
The TriDot® System is a one-of-a-kind, patents-pending triathlon training and racing system developed based on extensive and ongoing primary research since 2004. The TriDot® System's Intelligent Design Process (IDP) is a data-driven process that produces optimized training programs built for each athlete that deliver maximum results per training hour invested (Result: more performance gains and/or less training time). Serving beginners to professionals, the TriDot® System takes the guesswork out of triathlon training and racing.
This Press release was created and distributed on behalf of TriDot by Prism Communications Inc. Prism Communications is a full service internet marketing company that cuts through the myriad of internet marketing tactics and develops a coherent strategy for companies looking to grow their online presence. To learn more about Prism Communications, or to contact them for a free consultation for internet marketing solutions, email them at sam(at)prism-communications(dot)com.