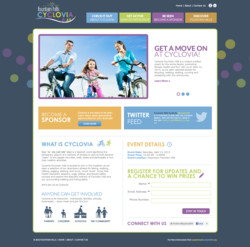 "This is a tremendous opportunity to showcase Fountain Hills and, at the same time, gather community members from throughout the Valley of the Sun around healthy activities."

Mayor Linda Kavanagh
Town of Fountain Hills
Fountain Hills, Arizona (PRWEB) September 26, 2012
The Town of Fountain Hills, the Fountain Hills Chamber of Commerce, and the Fountain Hills Visitors Bureau, are pleased to officially announce "Fountain Hills Cyclovia" to take place on Saturday, April 13, 2013, from 10:00am to 4:00pm. Music and entertainment in the park will follow, beginning at 4:30pm.
During this first-of-its-kind event for the Phoenix Metropolitan Area, the town of Fountain Hills will officially close several downtown streets to motor vehicles, while opening them up to cyclists, walkers, runners, skaters, strollers, and pets. It's a chance to celebrate community, learn about Fountain Hills, and promote healthy living with a wide range of physical activities and demonstrations, as well as enjoy local vendors, foods, and drinks.
"This is a tremendous opportunity to showcase Fountain Hills and, at the same time, gather community members from throughout the Valley of the Sun around healthy activities," says Mayor Linda Kavanagh. "It's not a competition, it's just a family-friendly way to get outside and explore all that's great about Fountain Hills."
Some of the Fountain Hills Cyclovia activities will include:

"Art Walk" on the Avenue
Costume Bike Parades
Guided Hiking Tours
Bicycle Safety and Helmet Fitting Workshops
FREE Yoga, Pilates and Zumba Demonstrations
Kids Play Areas
Rock Climbing
Bicycle Decorating Stations
Photo Booths
FREE Bicycle Tune-Ups and Repairs
Local Merchants and Sidewalk Sales
Farmers Market
Food from Local Restaurants and Vendors
Live Music and Entertainment
Beer Garden
Museum Tours
And more!
Fountain Hills Cyclovia also kicks off the 21st American Trails International Trails Symposium April 14 - 17, 2013. The Symposium opens with free open to the public event "Building Public Awareness for Trails". The event takes place on Sunday, April 14, 2013, from 2:00 to 6:00pm at the Symposium exhibit hall located at the Radisson Fort McDowell Resort. The public is invited to visit exhibitors, and learn about dozens of trail-related user groups from Fountain Hills, Scottsdale, Mesa and surrounding areas.
To find out more about Fountain Hills Cyclovia and the American Trails International Trails Symposium, visit http://www.cycloviafh.com.
Better yet, join the conversation on Facebook or get instant updates by following us on Twitter.
There are also plenty of ways to feature your business by becoming a Cyclovia Fountain Hills sponsor. To learn more, contact Erin Edelstein at erin@hennenpmg.com or 480-664-0541.
About Fountain Hills Cyclovia
According to Wikipedia, Cyclovia (siːklɵˈviː.ə) is a term which translates from Spanish into English as "bike path," referring to either a permanently designated bicycle route or the closing of city streets to automobiles for the enjoyment of cyclists and public alike. Fountain Hills Cyclovia takes place Saturday, April 13, 2013 in downtown Fountain Hills, Arizona. For more information, visit http://www.cycloviafh.com.
About the Town of Fountain Hills
The Town of Fountain Hills is a master planned community established in 1970 by McCulloch Properties (now MCO Properties, Inc.). Prior to 1970 the area was a cattle ranch and was part of one of the largest land and cattle holdings in Arizona. The land was purchased by Robert McCulloch in the late 1960s and the community designed by Charles Wood, Jr. (designer of Disneyland California). One of the community's most valuable assets is its natural beauty. Incredible views and natural desert terrain provide for a wide range of outdoor activities including hiking, biking, boating and golf. In fact, Fountain Hills contains some of the more challenging and picturesque golf courses in the State of Arizona.
The centerpiece of Fountain Hills is its beautiful fountain; one of the world's tallest man-made fountains. It serves as a focal point for the community and attracts thousands of visitors each year. For more information, visit http://www.experiencefountainhills.org.