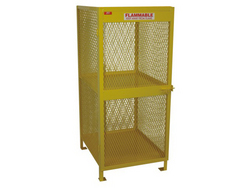 These cylinder cabinets fill a need for companies that have tightened their budgets during the recession or individuals that need industrial-grade storage equipment to hold their gas cylinders
Madison, WI (PRWEB) July 28, 2010
USAsafety.com, a Madison-based gas cylinder safety equipment supplier, announces its new line of cylinder cabinets. The bright yellow cylinder safety cabinets are designed to hold most industrial gas cylinders and offer affordable storage options for price-sensitive customers.
"These cylinder cabinets fill a need for companies that have tightened their budgets during the recession or individuals that need industrial-grade storage equipment to hold their gas cylinders," states Dan DeRubeis, founder and President of USA Safety Solutions, Inc., which owns and operates USAsafety.com. "Our goal is to provide cylinder storage solutions for any budget, and we are happy to add these durable, affordable cylinder cabinets to our product line."
Each gas cylinder cabinet meets the OSHA 1910 standard. The products are built for safety and include lockable doors, safety signage and are painted bright yellow to make sure they are visible to workers in the area. Maintaining a comprehensive safety program is essential for any businesses that use gas cylinders, and cylinder cabinets are a primary storage option.
USAsafety.com's new line of gas cylinder cabinets, manufactured by Jamco Products, comes in configurations that can hold 20-43 pound cylinders, as well as most other industrial cylinder sizes. Several of the cylinder cabinets are designed specifically for propane storage and can accommodate cylinders ranging from forklift propane tanks to propane tanks that are used for large gas grills.
For more information about USAsafety.com, the new line of gas cylinder cabinets, or any of its other products, visit http://www.usasafety.com or call 608-630-1572 Monday through Thursday from 9 am to 5pm CDT.
###