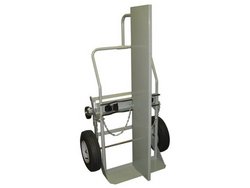 …as long as the barrier is at least 5 feet high, meets the 1/2-hour fire resistance rating and is designed to prevent the spread of the fire from one cylinder to another, employers using the product would meet the requirements of §1926.350(a)(10).2
Madison, WI (PRWEB) September 15, 2009
USAsafety.com, a Madison-based gas cylinder safety equipment supplier, announces its new line of cylinder carts with firewall. These cylinder carts exceed OSHA specifications for equipment that is used to hold oxygen and fuel combinations.
"The new line is in response to an important need of safety managers to conform to industry standards that directly apply to welding and torch carts," states Dan DeRubeis, founder and President of USA Safety Solutions LLC, which owns and operates USAsafety.com. "OSHA, specifically, has been cracking down hard on companies that aren't up to code in this area."
As documented on the OSHA website "…as long as the barrier is at least 5 feet high, meets the 1/2-hour fire resistance rating and is designed to prevent the spread of the fire from one cylinder to another, employers using the product would meet the requirements of §1926.350(a)(10).2". USAsafety.com carts meet and exceed this specification, as well as NFPA Code 1 and CGA standards, by exceeding the requirement using Marinite I(tm) one hour rated fire barrier material.
Firewall-equipped cylinder carts offer a safe solution that minimizes the inherent risk of ignition that exists when working with gas and flame simultaneously. Each cart includes a tall barrier that separates the cylinders to prevent fire hazard. This barrier eliminates the need to remove fuel and oxygen combinations at the end of a work shift and also allows their storage within close proximity of each other. Without the barrier, OSHA regulations state that these cylinder types must be stored at least 25 feet apart.
The new line of cylinder carts with firewall is an important addition to continually the expanding line of gas cylinder safety and handling equipment offered by USAsafety.com. For more information about USAsafety.com and its products, visit http://www.usasafety.com or call 608-630-1572 to speak with our staff.
# # #