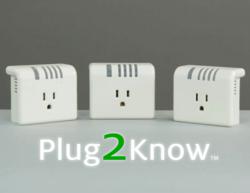 Smart and affordable, Plug2Know helps solve the frustrating dilemma of monitoring and managing home energy use.
Boise, ID (PRWEB) April 09, 2013
Cymbrio, a company with a rich consumer electronics and technology heritage is announcing a new product, Plug2Know, as part of its home energy management portfolio. Cymbrio has a Kickstarter.com project to launch Plug2Know which is currently live. Smart and affordable, Plug2Know helps solve the frustrating dilemma of monitoring and managing home energy use.
"The average home electricity bill in the United States is nearly $125 a month. Fortunately, Plug2Know provides a solution for monitoring monthly electrical usage," Rick Pennington, Cymbrio founder and CEO, said. "In the tests we've done, people say this is a very easy way of seeing how much electricity is being used, in terms of dollars."
Plug2Know uses patent-pending technology to forecast a 30-day cost of running an attached appliance or electronic device. People simply plug the device into a standard wall outlet, then plug whatever they want to monitor in to Plug2Know. After one or two days the user can gauge a credible estimate of how much energy the monitored device will use while it is active, on standby, or plugged in but not being used (turned off).
Cymbrio's creators invented Plug2Know to make it easy for people to get information they could not easily obtain before. By simply knowing the amount of money spent from using a particular appliance or electronic device people are more likely to change behavior which will result in them saving money.
"People find themselves taking steps to eliminate waste, reduce energy use, and save money. This is good for everybody." Pennington said. "We're excited to finally offer Plug2Know to the public. The first to receive them will be those who participate in our Kickstarter project."
To find this project, go to Kickstarter.com and search "Plug2Know" beginning April 2, 2013 or go directly:
About Cymbrio:
Cymbrio LLC was founded in 2009 and is lead by a board with decades of experience in engineering and inventing. Their vision is to inspire people to improve their quality of life through affordable technology devices which are easy to use. With Cymbrio's goal to provide compelling solutions to meet real-world consumer needs, the company is actively pursuing products targeted at mainstream consumers regarding their home energy management and conservation needs, home safety and security needs, and environmental concerns. Cymbrio regularly engages in focus group and hands-on product testing as it continues to improve and evolve its line of products.
Contact:
Preston Parker
Public Relations Director
Cell: 661-772-7537
preston(dot)parker(at)multimediawise(dot)com
Rick Pennington
CEO
Cymbrio LLC
815 S. Bridgeway, Suite 124
Eagle, ID 83616
Phone: 208-639-9498
Cell: 208-761-3695
rpennington(at)cymbrio(dot)com
http://www.cymbrio.com and http://www.plug2know.com
Press, Media, and Digital Content Page:
http://www.cymbrio.com/about-us/digital-content-page/