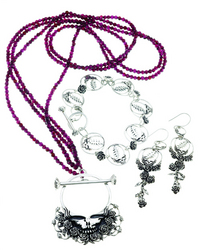 Looking to memorialize The Dead's aesthetic into timeless jewelry, I was impressed by Cynthia's collaborations with other museums and cultural institutions. I am delighted to see the artwork beautifully rendered in this collection.
New York, NY (PRWEB) May 4, 2010
Dead Heads unite! Renowned Manhattan-based jewelry designer Cynthia Gale has partnered with Grateful Dead Productions and Rhino Entertainment to create a distinctive sterling silver jewelry collection based on iconic Grateful Dead artwork. With this new collection, Cynthia Gale has created women's and men's sterling silver jewelry that speaks to individual creativity and embraces the artisanal, handcrafted aesthetic that Grateful Dead fans appreciate.
Peter McQuaid, former CEO of Grateful Dead Productions and consultant for music and merchandise licensing for Rhino Entertainment, is enthusiastic about the collaboration:
"Grateful Dead is arriving at its well-deserved place in American Pop Culture, being recognized for its unique social and artistic achievements. The University of California Santa Cruz is cataloging the Grateful Dead Archive, and the New-York Historical Society is presenting the first exhibition of Grateful Dead images and artifacts. Looking to memorialize The Dead's aesthetic into timeless jewelry, I was impressed by Cynthia's collaborations with other museums and cultural institutions. I am delighted to see the artwork beautifully rendered in this collection."
"Grateful Dead represented so many things to so many people during a time of great social and political upheaval in American history," says Cynthia Gale. "The Dead's music brought people close together, creating a sort of 'auditory family' while, at the same time, the songs emanated a powerful sense of individuality. Through the Grateful Dead collection, I've worked to welcome Dead admirers to the family and express the band's iconic trademarks. "
Legendary icons in Grateful Dead art have been incorporated into sterling silver cufflinks, earrings, bracelets and necklaces. Collection designs feature:

Grateful Dead Dancing Bears – featured on the back cover of the Album "History of the Grateful Dead, Volume 1 (Bear's Choice)" by Bob Thomas
Steal Your Face logo - famous red, white and blue skull with a lightning bolt
Space Your Face logo – a trademark logo used in the mid 1980s as a derivative of the Steal Your Face, with the lightning bolt replaced by planets, stars and a skull with a garland of roses
According to Olga Gonzalez, Sales and Marketing manager for GeoArt by Cynthia Gale, "The Grateful Dead Signature collection is made for their fans, from art inspired by their fans. With the band reaching iconic status, the collection helps raise awareness for The Dead within a new generation of fans. They continue to build a music and style legacy, which is remarkable. Cynthia's jewelry is the perfect fashion-forward tribute."
Items from the new collection are available on The Grateful Dead website and the GeoArt website.
About GeoArt by Cynthia Gale:
GeoArt by Cynthia Gale specializes in artisan-crafted sterling silver jewelry. Her signature collections are licensing partnerships with over fifteen of the nation's top museums and cultural institutions. The GeoArt by Cynthia Gale line has evolved from ideas reflecting the rich cultural diversity of New York City and Cynthia's passion for it. Our philosophy is simple: to create exquisite, quality sterling silver jewelry designs inspired by art and the world around us.
About Grateful Dead Productions:
As it has for decades, Grateful Dead Productions continues to bring to the millions of Grateful Dead fans around the world the beauty and magic of the Grateful Dead through the band's legendary recorded music catalogue, its universally recognized iconography of trademarks and graphic designs, its vault of forty years of taped and filmed concert performances, archival photography and posters, the merchandise products of its worldwide network of licensees and GDP's heralded internet site, dead.net.
About Rhino Entertainment:
Based in Burbank, California, Warner Music Group's Rhino Entertainment was founded in 1978 and is the world's leading pop culture label. Emphasizing flawless sound quality, bonus tracks, informative liner notes, award-winning creative packaging, an offbeat sense of humor, and a strong social conscience, Rhino continues to set the standard for excellence in the reissue business it pioneered in both the physical and digital worlds. Rhino is also expanding the definition of what a catalog music company is, as evidenced by the label's recent name and likeness representation deal with Frank Sinatra and its multi-faceted relationship with Grateful Dead. The vast Rhino catalog of more than 5,000 CDs, videos, and digital exclusive albums features material by Aretha Franklin, Ray Charles, The Doors, Chicago, Black Sabbath, John Coltrane, Yes, Alice Cooper, Linda Ronstadt, The Ramones, The Monkees, Carly Simon, Curtis Mayfield, among many others.
###