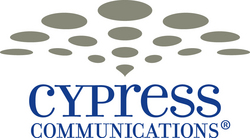 Especially in the small-to-medium enterprise (SME) segment, companies can utilize cloud services to lower costs, drive strategic business improvements and increase productivity.
Atlanta, GA (Vocus) December 11, 2009 -–
Cypress Communications® today announced that its Executive Vice President of Marketing, Frank Grillo, has accepted an invitation to speak at TMC's ITEXPO East 2010, held January 20-22 at the Miami Beach Convention Center. In a session entitled "Unified Communications and the Virtualized Enterprise," Mr. Grillo will discuss the paradigm shift from premises-based technologies to "as a service" solutions, also known as cloud services. The session will take place on January 21 at 8:30 a.m.
"Leveraging the cloud enables companies to avoid making capital investments in quickly evolving technologies and alleviates the need to hire specialized staff to manage new solutions, which can help them create state-of-the-art environments while freeing up substantial resources," said Mr. Grillo. "Especially in the small-to-medium enterprise (SME) segment, companies can utilize cloud services to lower costs, drive strategic business improvements and increase productivity."
Cloud services have emerged as the newest way to maintain service levels and deliver value while reducing costs, but the array of choices makes the path to virtualization daunting. Mr. Grillo will discuss the advantages and disadvantages of cloud services and outline a path to virtualization that starts with Unified Communications as a Service and concludes with how infrastructure, applications and servers can be accessed through the cloud to create a cost-effective and powerful configuration.
Mr. Grillo is a frequent speaker on the technology and telecom circuits and has extensive experience educating C-level executives and IT decision makers on emerging trends in IP communications. His extensive career in the telecommunications industry and executive direction of product design, marketing, sales and customer service for the Cypress cloud solution, C4 IP®, has provided him with the breadth of experience and depth of knowledge necessary for delivering captivating and informative presentations. C4 IP enables SMEs to benefit from array of advanced communication features such as soft phones, Microsoft® Outlook integration, unified messaging, chat, call routing, presence, file sharing, and audio, video and web conferencing—while saving money.
"Frank Grillo's participation at ITEXPO exemplifies why this show is widely recognized as the #1 venue where service providers, enterprises, government agencies, resellers, and developers gather to learn about the benefits inherent in IP Communications products and services," said Rich Tehrani, TMC Chief Executive Officer. "The evolution in this industry has been monumental and it still continues to grow, outpacing other economic sectors. We are pleased to have Mr. Grillo as an innovative participant."
ITEXPO, going into its 11th year, is the world's largest and best-attended IP Communications trade show, drawing an average attendance of 7,000 buyers and sellers of IP Communications products and services. Registration for the show is now open. Anyone interested may register by visiting http://www.itexpo.com.
About TMC
Technology Marketing Corporation (TMC) is an integrated global media company helping our clients build communities in print, in-person and online. TMC publishes Customer Interaction Solutions, INTERNET TELEPHONY, Unified Communications, and NGN Magazines. TMC is also the first publisher to test new products in its own on-site laboratories, TMC Labs. TMCnet, TMC's Web site, is the leading source of news and articles for the communications and technology industries. TMCnet is read by nearly one million US visitors according to Quantcast and by two to three million unique visitors each month worldwide, according to Webtrends. In addition, TMC produces ITEXPO; 4GWE Conference and M2M Evolution (in conjunction with Crossfire Media); Digium|Asterisk World (in conjunction with Digium); and Smart Grid Summit (in conjunction with Intelligent Communication Partners).
TMC also serves technology professionals with industry-specific Web sites: IT.TMCnet.com, 4G-wirelessevolution.TMCnet.com, M2M Evolution.com, Smart-Grid.TMCnet.com, Smart Products Ecosystem, Robotics.TMCnet.com, Cable.TMCnet.com, Satellite.TMCnet.com, Green.TMCnet.com, Healthcare.TMCnet.com, and Education.TMCnet.com. For more information about TMC, visit http://www.tmcnet.com.
About Cypress Communications
For over 25 years, Cypress Communications has been helping small-to-medium enterprises (SMEs) connect, communicate, collaborate and continue® with a range of fully hosted and managed voice, data and Internet solutions. Beginning in 2006, Cypress revolutionized the communications industry with its hosted VoIP and hosted unified communications solution, C4 IP, making it easy for SMEs to take advantage of productivity-enhancing technology such as integrated audio and Web conferencing, multimedia collaboration tools, presence, chat, Microsoft® Outlook integration, and more. As a Deloitte Fast 50 and Fast 500 award recipient, Cypress is recognized as one of the fastest growing telecommunication companies in North America. In 2008, the company was also named one of Atlanta's Best Places to Work. Cypress' hosted unified communications solution has received numerous awards and accolades, with 19 awards for excellence and innovation to date. The company's Web address is http://www.cypresscom.net.
To learn more about hosted unified communications, visit the company's UC 360 blog at http://blog.tmcnet.com/uc-360.
For more information, contact:
Heather Whitt Roberts
Cypress Communications
404-442-0034
hwhitt(at)cypresscom(dot)net
© 2006-2009 Cypress Communications, Inc. The Cypress Communications logo is a registered service mark of Cypress Communications, Inc. C4 IP and Connect. Communicate. Collaborate and Continue are registered trademarks of Cypress Communications. All other marks used herein are the property of their respective owners.
###