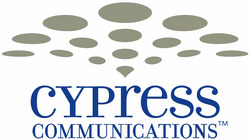 Do you love your job?
Atlanta, GA (Vocus) June 24, 2008 -
Cypress Communications proudly announces that it has been selected as one of Atlanta's Best Places to Work according to a survey conducted by Atlanta magazine. Out of 176 nominees, 100 finalists and the ultimate list of 40 best workplaces, Cypress Communications ranked #17.
Atlanta magazine asked employees from across Atlanta the eternal question: "Do you love your job?" Cypress Communications' employees answered with a resounding "yes" by nominating the company and then ranking it on topics ranging from compensation to professional development. Best workplace rankings were calculated using employee nominations and survey responses.
"This is an exciting time to be at Cypress Communications. There's an electrifying current of innovation and a collaborative spirit that just can't be beat," said Steve Schilling, president and chief executive officer at Cypress Communications. "Our employees are instrumental in our success—their dedication to their work, commitment to our customers and drive to succeed are like none other. It is a truly gratifying experience to be surrounded by such a phenomenal group of people."
"We are honored to be listed among Atlanta's Best Places to Work and extend our warmest congratulations to this year's other honorees," Schilling continued.
To begin compiling the list, Atlanta magazine solicited nominations through their Web site. Between August 2007 and January 2008, over 700 employees nominated 176 workplaces throughout Atlanta, ranking the validity of twenty statements to determine job satisfaction levels. From the 176 nominations, the list was narrowed to 100 by averaging scores. For each of the 100 companies, employees ranked statements on a variety of topics. In total, 5,201 employees participated. The results were averaged and combined with the points earned from the profile form to determine the top 40.
Rebecca Burns, editor in chief at Atlanta magazine, said, "What is common across all these companies is attention to employee welfare and creating an environment where people feel invested in their jobs. Our survey is unique because nominations came from employees, not management. That's a testament to how successful these forty employers are at generating workplaces people love."
"We are very pleased that our employees were motivated to spotlight Cypress as a great place to work," said Mark Herold, vice president of human resources at Cypress Communications. "We aim to provide a challenging yet rewarding work environment, and employee commitment and engagement is something that we do not take for granted."
Headquartered in Atlanta, and with local presence in 29 metropolitan areas, Cypress Communications is one of the nation's largest providers of traditional telecom solutions and hosted VoIP and unified communications for small-to-medium enterprises. Cypress' flagship solution, which is marketed as C4 IP for its ability to help companies connect, communicate, collaborate and continue™, has won five recent awards for product innovation—all made possible by the skill, hard work and commitment of its employees.
The complete Best Places to Work list is published in the July 2008 issue of Atlanta magazine.
About Atlanta Magazine
Since 1961, Atlanta magazine has served as the authority on Atlanta, providing its readers with a mix of long-form nonfiction, lively lifestyle coverage, in-depth service journalism, and literary essays, columns and profiles.
About Cypress Communications
Boasting a 20-year legacy and more than 6,500 customers coast-to-coast, Cypress provides Communications as a Service (CaaS) to small- and mid-sized enterprises. CaaS goes beyond traditional hosted VoIP offerings by delivering a fully managed unified communications solution. Comprehensive and flexible, the CaaS solution from Cypress includes integrated voice and data access, desktop phones, soft phones, local and long-distance voice services, voicemail, advanced collaboration tools and remote office functionality. From their computers, users can take advantage of productivity-enhancing applications such as real-time presence, desktop video, unified messaging, chat, file sharing, and Outlook integration. As a Deloitte Fast 50 and Fast 500 award recipient, Cypress Communications is also recognized as one of the fastest growing telecommunication companies in North America. Cypress is headquartered in Atlanta. The company's Web address is http://www.cypresscom.net.
© 2006-2008 Cypress Communications, Inc. The Cypress Communications logo is a service mark of Cypress Communications, Inc. C4 IP is a trademark of Cypress Communications. All other marks used herein are the property of their respective owners.
For more information, contact:
Heather Whitt
Cypress Communications
404-975-4128
hwhitt@cypresscom.net
###