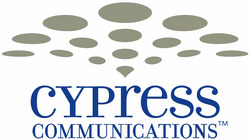 C4 IP will give us the flexibility and mobility we need to continue delivering superior service and world-class support for our rapidly growing client base without the need to add traditional
Atlanta (Vocus) July 30, 2008
Cypress Communications fuels teleworker productivity with hosted VoIP and unified communications. With Cypress' C4 IP™ hosted VoIP and unified communications solution, hallway meetings and water-cooler conversations are replaced with PC-based calling, chat, desktop video, Web collaboration and real-time information on co-worker availability and status.
Cypress Communications customer Nancy Wright Whatley, chief executive officer at VantagePoint touts C4 IP's remote worker support, "C4 IP will give us the flexibility and mobility we need to continue delivering superior service and world-class support for our rapidly growing client base without the need to add traditional "brick and mortar" offices. We can embrace a virtual business model with all of its inherent benefits, but communicate as if we are in the same building. This type of communications approach will
help us be more productive and responsive to our clients and enable us to meet our business goals much more quickly."
"Many organizations have initiated teleworking programs as a way to attract and retain top talent; however, record-high gas prices have spurred even more organizations to offer teleworking options to employees. Sure, teleworking has its advantages, but most managers are at a loss on how to manage remote employees. Successful teleworking programs require more than providing a phone and email access to the remote employee. The question becomes how to best manage their time and how to keep them connected and engaged with co-workers despite reduced face-to-face contact," said Frank Grillo, executive vice president of marketing at Cypress Communications.
"For optimal productivity, managers need insight into the activities of remote workers; co-workers need to share files, collaborate on projects, participate in meetings and communicate instantly with each other. They need to be able to communicate across the miles just as they did when they were within a few steps of each other--and that's what Cypress Communications offers with C4 IP."
Named for its ability to help employees connect, communicate, collaborate and continue™, C4 IP is an enterprise-class hosted VoIP and unified communications solution that features integrated voice and data access, desktop phones, PC-based phones, unified messaging and cutting-edge multimedia applications such as Microsoft® Outlook integration, collaboration, real-time presence, desktop video, chat, and audio, video and Web conferencing.
C4 IP at a Glance--Teleworker Tools for Optimum Productivity

Desktop and Soft Phones: With two options for voice communications - a state-of-the-art desktop IP phone and an advanced soft phone installed on users' PCs, employees can make and receive calls anywhere, anytime.
Unified Messaging: Users can access voicemail from whichever device is most convenient--their soft phone, desktop phone and Outlook email.
Real-Time Presence: At a glance, teleworkers and their co-workers know who's on the phone, away from their desk or just simply unavailable, making it easier than ever to collaborate.
Secure Chat: Employees can access secure instant messaging at any time. There's no more phone tag or waiting for an email response from co-workers.
Find Me/Follow Me: Calls can be easily redirected based on day, time and who's calling, ensuring that employees never miss important calls.
Multimedia Collaboration: Collaboration reaches new heights with real-time audio, video and Web streaming and file sharing. Even if the file is too large to email to colleagues, it can easily be transferred with C4 IP. Anyone on the network can present slideshows, brainstorm ideas, share desktop applications and files, and collaborate in real-time at a fraction of the cost of travel.
About Cypress Communications
Boasting a 20-year legacy and 6,500+ customers coast-to-coast, Cypress Communications delivers voice, data and Internet solutions to small- and mid-sized enterprises, including a fully hosted VoIP and unified communications solution. Users benefit from integrated voice and data access, desktop phones, soft phones, local and long-distance, voicemail, collaboration tools and remote office functionality. From their computers, users can take advantage of productivity-enhancing applications like real-time presence, desktop video, unified messaging, chat, file sharing, and Outlook integration. As a Deloitte Fast 50 and Fast 500 award recipient, Cypress is recognized as one of the fastest growing telecommunication companies in North America. The company has also been recognized as one of Atlanta's Best Places to Work 2008 and awarded the 2008 TMC Lab Innovation Award, 2008 Innovator Award, 2007 Unified Communications Product of the Year, Communications Solutions Product of the Year, and 2007 Product Innovation Award for Business Continuity in the category of Hosted VoIP. The company's Web address is http://www.cypresscom.net.
From June 16 to September 16, 2008, Cypress Communications is offering the chance for one lucky company to win 2 years of free hosted VoIP and unified communications in the Get Your VoIP On™ giveaway. Details are available online at http://www.cypresscom.net/freevoip.
© 2006-2008 Cypress Communications, Inc. The Cypress Communications logo is a service mark of Cypress Communications, Inc. C4 IP is a trademark of Cypress Communications. Get Your VoIP On is a trademark of Cypress Communications. Connect, communicate, collaborate and continue is a trademark of Cypress Communications. All other marks used herein are the property of their respective owners.
For more information, contact:
Heather Whitt
Cypress Communications
404-975-4128
hwhitt @ cypresscom.net
###