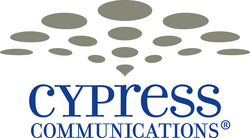 Cypress Communications has clearly shown the staff of TMC Labs that C4 IP ACD has made a significant contribution to the CRM and contact center industry
Atlanta, GA (Vocus) September 25, 2009
Cypress Communications® announced today that Technology Marketing Corporation (TMC) has awarded the company's C4 IP® Automatic Call Distribution solution--entitled C4 IP ACD--a 2009 TMC Labs Innovation Award from Customer Interaction Solutions magazine. C4 IP ACD is a powerful combination of automatic call distribution functionality integrated into one of the leading hosted VoIP and hosted unified communications solutions for small-to-medium enterprises (SMEs). This is the 17th award Cypress has received for product innovation.
The TMC Labs Innovation Award distinguishes products that demonstrate innovation, uniqueness, and significant contributions toward improving communications technology.
"Cypress Communications has clearly shown the staff of TMC Labs that C4 IP ACD has made a significant contribution to the CRM and contact center industry," said Nadji Tehrani, founder and chairman of TMC and publisher of Customer Interaction Solutions. "We're proud to honor their outstanding accomplishment with a TMC Labs Innovation Award this year."
C4 IP ACD enables SMEs to better manage their calls and as a result, be more competitive. Calls are queued and distributed between team members for effective call management and improved customer satisfaction. Intelligent routing spreads the workload evenly among agents, boosting employee morale and increasing customer service. And, real-time call center statistics with historical reporting gives supervisors the information they need to operate efficiently. Reporting, queue configuration control and LCD wall board support may also be added to the solution.
"At Cypress, we firmly believe in the value of the hosted delivery model--in its ability to deliver better technology and more functionality at a lower cost than alternative options," said Frank Grillo, executive vice president of marketing at Cypress. "Most premises-based solutions require heavy upfront investments in equipment and extensive IT resources to implement, oftentimes putting much-needed functionality out of reach of small-to-medium enterprises (SMEs). But Cypress levels the playing field with C4 IP ACD and its wide range of hosted features, enabling SMEs to leverage world-class technology that would otherwise be cost-prohibitive for them to implement."
As a comprehensive hosted VoIP and hosted unified communications solution, C4 IP comes complete with voice and data access, phones, collaboration and video services, unified messaging and advanced PBX functionality. Since it is an outsourced solution, C4 IP requires little oversight from the customer, so they can reallocate IT budget and personnel resources to where they'll create the most business growth and value.
About Customer Interaction Solutions
Since 1982, Customer Interaction Solutions (CIS) magazine has been the voice of the call/contact center, CRM and teleservices industries. CIS magazine has helped the industry germinate, grow, mature and prosper, and has served as the leading publication in helping these industries that have had such a positive impact on the world economy to continue to thrive. Through a combination of outstanding and cutting-edge original editorial, industry voices, in-depth lab reviews and the recognition of the innovative leaders in management and technology through our highly valued awards, Customer Interaction Solutions strives to continue to be the publication that holds the quality bar high for the industry. Please visit http://www.cismag.com.
About TMC
Technology Marketing Corporation (TMC) is a global integrated media company helping our clients build communities in print, in person and online. TMC publishes Customer Interaction Solutions, INTERNET TELEPHONY, Unified Communications, and NGN magazines. TMCnet, TMC's Web site, is the leading source of news and articles for the communications and technology industries. TMCnet is read by two million unique visitors each month on average worldwide, according to Webtrends. TMCnet has ranked within the top 3,000 in Quantcast's Top U.S. sites, placing TMCnet in the nation's top .03% most visited Web sites. In addition, TMC produces ITEXPO, 4GWE Conference (in conjunction with Crossfire Media), Digium|Asterisk World and AstriCon (in conjunction with Digium), and Communications Developer Conference. TMC also serves technology professionals with industry-specific Web sites: IT.TMCnet.com, Cable.TMCnet.com, 4G-wirelessevolution.TMCnet.com, Robotics.TMCnet.com, Satellite.TMCnet.com, Green.TMCnet.com, Healthcare.TMCnet.com, and Education.TMCnet.com. For more information about TMC, visit http://www.tmcnet.com.
About Cypress Communications
For over 25 years, Cypress Communications has been helping small-to-medium enterprises (SMEs) connect, communicate, collaborate and continue® with a range of fully hosted and managed voice, data and Internet solutions. Beginning in 2006, Cypress revolutionized the communications industry with its hosted VoIP and hosted unified communications solution, C4 IP, making it easy for SMEs to take advantage of productivity-enhancing technology such as integrated audio and Web conferencing, multimedia collaboration tools, presence, chat, Microsoft® Outlook integration, and more. As a Deloitte Fast 50 and Fast 500 award recipient, Cypress is recognized as one of the fastest growing telecommunication companies in North America. In 2008, the company was also named one of Atlanta's Best Places to Work. Cypress' hosted unified communications solution has received numerous awards and accolades, with 17 awards for excellence and innovation to date. The company's Web address is http://www.cypresscom.net.
To learn more about hosted unified communications, visit the company's UC 360 blog at http://blog.tmcnet.com/uc-360.
Heather Whitt Roberts
Cypress Communications
404-442-0034
hwhitt(at)cypresscom.net
Jan Pierret
Marketing Manager, TMC
203-852-6800, ext. 228
jpierret(at)tmcnet.com
© 2006-2009 Cypress Communications, Inc. The Cypress Communications logo is a registered service mark of Cypress Communications, Inc. C4 IP and Connect. Communicate. Collaborate and Continue are registered trademarks of Cypress Communications. All other marks used herein are the property of their respective owners.
###