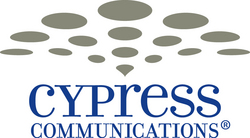 Cypress' success is propelled by our ability to merge the creativity, foresight and technical acumen of our team to develop innovative solutions that make a real difference to small-to-medium enterprises (SMEs)
Atlanta, GA (Vocus) September 1, 2009
Cypress Communications announced today that Technology Marketing Corporation (TMC) named Cypress' C4 IP™ hosted VoIP and hosted unified communications solution as a 2009 TMC Labs Innovation Award winner. The award, presented by TMC's INTERNET TELEPHONY publication, honors products that display innovation, unique features, and significant contributions toward improving communications technology. This is Cypress' 16th innovation award for the C4 IP solution.
"Cypress' success is propelled by our ability to merge the creativity, foresight and technical acumen of our team to develop innovative solutions that make a real difference to small-to-medium enterprises (SMEs)," said Frank Grillo, executive vice president of marketing at Cypress. "C4 IP represents a big step forward for Cypress and the industry as a whole, as its fully hosted delivery model enables SMEs to benefit from unified communications while circumventing the roadblocks that previously stood in their way. With C4 IP, there's no upfront capital investment, no ongoing maintenance costs and no need to hire and train staff to manage the solution. We're incredibly proud of C4 IP's success and will continue to build on its momentum to deliver even more innovative products in the future."
C4 IP leverages a world-class network of tightly integrated carrier-grade and multimedia communications servers to deliver converged voice and data services and a powerful suite of collaboration tools. With its fully hosted delivery model, C4 IP provides SMEs with everything they need--from the technology management to all of the equipment--for a predictable monthly cost. There are no multiple vendor contracts to manage and no worries of technological obsolescence.
Since Cypress provides all of the hardware needed for the C4 IP solution, SMEs avoid making additional capital investments in their communications system when they open new offices, and they also avoid wasting phones and other telecom equipment if offices close. Additionally, Cypress' end-to-end management of the solution enables SMEs to avoid hiring, training and sustaining additional--not to mention expensive--IT staff. In an economic cycle where businesses are being asked to do more with less, C4 IP is the ideal way to get better technology and enhance productivity while spending less.
"Cypress Communications has made contributions which have resulted in significant advancement to the industry. They have demonstrated to the staff of TMC Labs that C4 IP is truly innovative in the IP Communications industry," said TMC President Rich Tehrani. "We're proud to reward Cypress' hard work with a TMC Labs Innovation Award this year."
Added Tom Keating, CTO and TMC Labs Editorial Director, "The Innovation Award exemplifies the best and the most unique products and services that this industry has to offer. Congratulations to Cypress for earning this great honor. I look forward to seeing more innovative solutions from them as they continue to contribute to the future of IP communications."
The TMC Labs Innovation Awards distinguish the companies that demonstrate raw innovation and make significant contributions in the advancement of technology. The 2009 TMC Labs Innovation Award winners will be highlighted in the July and August 2009 issues of INTERNET TELEPHONY magazine.
About INTERNET TELEPHONY magazine
INTERNET TELEPHONY has been the IP Communications Authority since 1998™. Beginning with the first issue in February of 1998, INTERNET TELEPHONY magazine has been providing unbiased views of the complicated converged communications space. INTERNET TELEPHONY offers rich content from solutions-focused editorial content to reviews on products and services from TMC Labs. INTERNET TELEPHONY magazine reaches more than 225,000 readers, including pass-along readers. For more information, please visit http://www.itmag.com.
About TMC
Technology Marketing Corporation (TMC) is a global integrated media company helping our clients build communities in print, in person and online. TMC publishes Customer Interaction Solutions, INTERNET TELEPHONY, Unified Communications, and NGN Magazine. TMCnet, TMC's Web site, is the leading source of news and articles for the communications and technology industries. TMCnet is read by two to three million unique visitors each month worldwide, according to Webtrends. TMCnet is ranked as 2,921 in Quantcast's Top U.S. Sites placing TMCnet in the top .03% most visited Web sites in the US. In addition, TMC produces ITEXPO, 4GWE Conference, Digium|Asterisk World and Communications Developer Conference. TMC's Green Blog has been ranked on the "100 Best Blogs for Those Who Want to Change the World". TMC also recently launched new industry-specific Web sites: IT.TMCnet.com, Cable.TMCnet.com, Robotics.TMCnet.com, Satellite.TMCnet.com, Green.TMCnet.com. New services offered by TMCnet include the Tech Jobs site and TMCnet iPhone News. For more information about TMC, visit http://www.tmcnet.com.
About Cypress Communications
For 25 years, Cypress Communications has been helping small-to-medium enterprises (SMEs) connect, communicate, collaborate and continue™ with a range of fully hosted and managed voice, data and Internet solutions. Beginning in 2006, Cypress revolutionized the communications industry with its hosted VoIP and hosted unified communications solution, C4 IP, making it easy for SMEs to take advantage of productivity-enhancing technology such as integrated audio and Web conferencing, multimedia collaboration tools, presence, chat, Microsoft® Outlook integration, and more. As a Deloitte Fast 50 and Fast 500 award recipient, Cypress is recognized as one of the fastest growing telecommunication companies in North America. In 2008, the company was also named one of Atlanta's Best Places to Work. Cypress' hosted unified communications solution has received numerous awards and accolades, with 16 awards for excellence and innovation to date. The company's Web address is http://www.cypresscom.net.
To learn more about hosted unified communications, visit the company's UC 360 blog at http://blog.tmcnet.com/uc-360.
© 2006-2009 Cypress Communications, Inc. The Cypress Communications logo is a registered service mark of Cypress Communications, Inc. C4 IP is a trademark of Cypress Communications. Connect, communicate, collaborate and continue is a trademark of Cypress Communications. All other marks used herein are the property of their respective owners.
For more information, contact:
Heather Whitt Roberts
Cypress Communications
404-442-0034
hwhitt (at) cypresscom (dot) net
Jan Pierret
Marketing Manager, TMC
203-852-6800, ext. 228
jpierret (at) tmcnet (dot) com
###