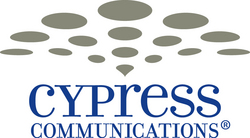 Unified Communications Best Practices: How to spend less and get more
Atlanta, GA (Vocus) January 29, 2009
Cypress Communications, the premier provider of hosted unified communications, will launch a multifaceted approach to educating legal professionals at LegalTech New York 2009. With a booth in the exhibit hall, live demonstrations of its C4 IP™ hosted unified communications solution, and the unveiling of multiple new hosted solutions, Cypress will be seen, felt and heard at one of the legal industry's largest events, held February 2-4.
Frank Grillo, executive vice president of marketing at Cypress Communications, will lead a seminar entitled "Unified Communications Best Practices: How to spend less and get more" at 1:30 p.m. on February 2. In his presentation, Grillo will educate attendees on how they can leverage unified communications in order to decrease their overall telecom spend and innovate ahead of their competition. Attendees will gain an understanding of the most common features and benefits, hear about the latest developments, and examine the implementation costs of a hosted vs. a do-it-yourself approach.
"Unified communications has the power to transform the way people connect with each other and the information they need the most--which is especially important in the legal community," Grillo said. "In this economy, the right solution can be the key to success, and I am excited to share my perspectives on how this transformational technology can help law firms increase productivity while decreasing their communications spend."
In addition to Grillo's presentation, Cypress associates will be on hand at booth #1603 in the exhibit hall, providing live demonstrations of Cypress' award-winning hosted unified communication solution, C4 IP, and introducing new features for 2009 such as call recording, quality management and fixed mobile convergence. Another big attraction at the booth will be Cypress' new suite of hosted solutions, which includes new managed data solutions, hosted Contact Center and the much-anticipated hosted Microsoft® OCS.
"Since we launched our first hosted unified communications solution three years ago, Cypress has played a major role in shaping the evolution of communications technologies, and we continue that tradition with the new products we're introducing at LegalTech," Grillo continued. "With our hosted delivery model, we are bringing enterprise-grade solutions such as Contact Center and Microsoft OCS to firms who wouldn't normally be able to implement them due to the cost and complexity involved."
LegalTech events gather top professionals from law firms and legal departments nationally, delivering hands-on, practical information for improving law practice management through leading edge technology and innovative products. LegalTech New York 2009 will take place from February 2-4, 2009 at the Hilton New York Hotel.
About Cypress Communications
For over 20 years, Cypress Communications has been helping small-to-medium enterprises (SMEs) connect, communicate, collaborate and continue™ with a range of fully hosted and managed voice, data and Internet solutions. Beginning in 2006, Cypress revolutionized the communications industry with its hosted VoIP and hosted unified communications solution, C4 IP, making it easy for SMEs to take advantage of productivity-enhancing technology such as integrated audio and Web conferencing, multimedia collaboration tools, presence, chat, Microsoft® Outlook integration, and more. As a Deloitte Fast 50 and Fast 500 award recipient, Cypress is recognized as one of the fastest growing telecommunication companies in North America. In 2008, the company was also named one of Atlanta's Best Places to Work. Cypress' hosted unified communications solution has received numerous awards and accolades, with 10 awards for excellence and innovation to date. The company's Web address is http://www.cypresscom.net.
To learn more about hosted unified communications, visit Frank Grillo's UC 360 blog at http://blog.tmcnet.com/uc-360.
© 2006-2009 Cypress Communications, Inc. The Cypress Communications logo is a registered service mark of Cypress Communications, Inc. C4 IP is a trademark of Cypress Communications. Connect, communicate, collaborate and continue is a trademark of Cypress Communications. All other marks used herein are the property of their respective owners.
For more information, contact:
Heather Whitt
Cypress Communications
404-442-0034
hwhitt @ cypresscom.net
# # #