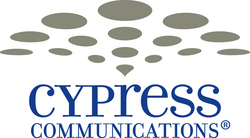 We looked at a number of other providers, but they either didn't offer all the services we wanted, didn't cater to our business size or had heavy upfront costs
Atlanta, GA (Vocus) June 10, 2009
Medversant, a pioneer in healthcare technology, selected Cypress Communications' award-winning C4 IP™ hosted unified communications solution for its ability to increase efficiency and reduce costs, as well as for its scalability.
"We looked at a number of other providers, but they either didn't offer all the services we wanted, didn't cater to our business size or had heavy upfront costs," said Qin Ye, M.D., MS, senior vice president of technology at Medversant. "Selecting the C4 IP hosted solution from Cypress was easy since they could provide everything and manage it end-to-end without an astronomical upfront cost. C4 IP's hosted model enables us to save money and focus on what we specialize in, while leaving the communications management to Cypress."
C4 IP is a hosted unified communications solution that delivers converged voice and data services, integrated audio and Web conferencing , multimedia collaboration tools , and robust support for remote workers. While traditional unified communications solutions are costly and complex, Cypress' fully hosted and managed C4 IP solution enables small-to-medium enterprises (SMEs) to benefit from a slew of productivity-enhancing technologies without the capital expense or need to hire additional technical staff to manage the system.
"From traditional voice services to fully integrated unified communications, Cypress' array of hosted solutions enable our clients to stay with Cypress even as their business needs change," said Frank Grillo, executive vice president of marketing at Cypress. "Our product portfolio provides a migration path to new technologies while our 'as a service' delivery model enables our customers to pay for only what they need now and scale up or down without making additional capital investments or dealing with equipment waste. It's the ideal solution in an economy where every budget dollar counts."
As a technological innovator itself, Medversant is well-versed in the potential of great solutions, such as C4 IP. Focused on one of the most critical components of healthcare administration, provider information management, Medversant delivers Web-based applications that help eliminate multiple databases, paper files and waste, thereby minimizing the cost of processing provider information and increasing the value of information captured.
In the same way that Medversant is changing the paradigm on how healthcare provider information is managed, Cypress is changing the way people connect, communicate, collaborate and continue™ with C4 IP. Delivering the latest tools for communications through one of the nation's most robust networks, Cypress has been continuously recognized as a leading provider of hosted unified communications, with 13 awards for product innovation to date.
About Medversant Technologies
Medversant, LLC is the nation's leading provider of continuously monitored Web-based credentials verification solutions through patented AutoVerifi™ technology (U.S. Patent 7,529,682) for hospitals, health insurance plans, nursing homes, outpatient centers and other healthcare settings. Medversant provides a software tool that is highly efficient, cost-effective and an accurate solution for provider database management. Headquartered in Los Angeles, Calif., Medversant can be reached at (213) 291-6139 or http://www.medversant.com.
About Cypress Communications
For over 20 years, Cypress Communications has been helping small-to-medium enterprises (SMEs) connect, communicate, collaborate and continue™ with a range of fully hosted and managed voice, data and Internet solutions. Beginning in 2006, Cypress revolutionized the communications industry with its hosted VoIP and hosted unified communications solution, C4 IP, making it easy for SMEs to take advantage of productivity-enhancing technology such as integrated audio and Web conferencing, multimedia collaboration tools, presence, chat, Microsoft® Outlook integration, and more. As a Deloitte Fast 50 and Fast 500 award recipient, Cypress is recognized as one of the fastest growing telecommunication companies in North America. In 2008, the company was also named one of Atlanta's Best Places to Work. Cypress' hosted unified communications solution has received numerous awards and accolades, with 13 awards for excellence and innovation to date. The company's Web address is http://www.cypresscom.net.
To learn more about hosted unified communications, visit the company's UC 360 blog at http://blog.tmcnet.com/uc-360.
© 2006-2009 Cypress Communications, Inc. The Cypress Communications logo is a registered service mark of Cypress Communications, Inc. C4 IP is a trademark of Cypress Communications. Connect, communicate, collaborate and continue is a trademark of Cypress Communications. All other marks used herein are the property of their respective owners.
For more information, contact:
Heather Whitt Roberts
Cypress Communications
404-442-0034
# # #