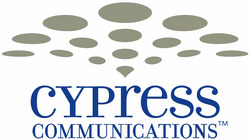 We are honored to be recognized by the Technology Association of Georgia with this prestigious award
Atlanta, GA (Vocus) October 27, 2008
Cypress Communications is proud to announce that it was named the winner of the Excalibur Award, presented by the Technology Association of Georgia (TAG). The Excalibur Award recognizes companies that have demonstrated outstanding competency in utilizing technology to enhance their businesses.
"We are honored to be recognized by the Technology Association of Georgia with this prestigious award," said Cypress Communications' president and CEO, Steve Schilling. "At Cypress Communications, we aim to use the best technology to truly create innovative solutions for our customers, and this award is a testament to the hard work and dedication of our talented employees and the support of our vendors; it is through their collaborative efforts that we've been able to achieve this goal."
In its quest to create an advanced communications solution that delivered the benefits of VoIP and unified communications while still retaining the quality and reliability of traditional telephony, Cypress Communications took the unconventional path of integrating two traditionally disparate platforms: the Nortel Communications Server 2000 with the powerful Multimedia Communications Server 5200. With the successful integration of these platforms, deployed into the Cypress Communications private IP network and enabled by a complex array of software, Cypress Communications became the only company in the United States--and only one of three in the world--to accomplish this feat.
The successful development and deployment of these powerful technologies became Cypress Communications' flagship accomplishment, enabling the company to deliver what no other company has done before: a comprehensive hosted VoIP and hosted unified communications solution that is fully managed by a single provider. This solution, marketed as C4 IP™, comes complete with voice and data access, desktop phones, soft phones, unified messaging and cutting-edge multimedia applications such as Outlook® integration, collaboration, presence, chat, as well as audio, video and Web conferencing.
"This year, the judges found many of our entries to be worthy of recognition, but Cypress Communications stood out among the group as exemplifying the core spirit of the Excalibur Award. Cypress Communications had a vision--for themselves and for their clients--and the company met the challenge with vigor and ingenuity. We at TAG extend our warmest congratulations to Cypress Communications for this achievement," said Tino Mantella, president of TAG.
The Excalibur Awards were initiated in 2005 to recognize and call attention to Georgia's "tech-enabled" companies who demonstrate exemplary competency in utilizing the latest and best technology to enhance their businesses and gain a true competitive advantage over their competition. Nominees for the Excalibur Award were judged on a variety of criteria including the scope of the issue addressed or problem solved, the creativity of the technology-enabled solution, return on investment and business results.
About Technology Association of Georgia
The Technology Association of Georgia (TAG) is a non-profit organization whose mission is to support its members by generating opportunities for personal, professional and business growth. By forging strategic alliances, TAG serves as a primary catalyst to foster a rich environment for economic development in Georgia's technology community. TAG is made up of over 6,000 members representing technology leaders from over 1,500 Georgia-based companies, affiliated technology and business organizations. For more information on TAG, visit http://www.tagonline.org.
About Cypress Communications
Boasting a 20-year legacy and 6,500+ customers coast-to-coast, Cypress Communications delivers voice, data and Internet solutions to small- and mid-sized enterprises, including a fully hosted VoIP and unified communications solution. Users benefit from integrated voice and data access, desktop phones, soft phones, local and long distance service, voicemail, collaboration tools and remote office functionality. From their computers, users can take advantage of productivity-enhancing applications like real-time presence https://admin.prweb.com/admin/modipr2.php?prid=1522194
Edit Press Release, desktop video, unified messaging, chat, file sharing, and Outlook® integration. As a Deloitte Fast 50 and Fast 500 award recipient, Cypress Communications is recognized as one of the fastest growing telecommunication companies in North America. The company has also been recognized as one of Atlanta's Best Places to Work and presented with the Technology Association of Georgia's Excalibur Award, TMC Labs Innovation Award, VON Magazine Innovator Award, Unified Communications Product of the Year, Communications Solutions Product of the Year, Product Innovation Award for Business Continuity and the Internet Telephony Excellence Award. The company's Web address is http://www.cypresscom.net.
© 2006-2008 Cypress Communications, Inc. The Cypress Communications logo is a service mark of Cypress Communications, Inc. C4 IP is a trademark of Cypress Communications. Connect, communicate, collaborate and continue is a trademark of Cypress Communications. All other marks used herein are the property of their respective owners.
###