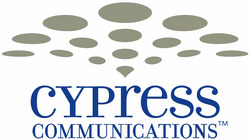 This award is not just about creating an innovative solution; it's about showing how innovation can be leveraged by companies for their benefit, and we are incredibly honored to be recognized in this capacity
Atlanta, GA (Vocus) October 16, 2008
Cypress Communications has again been recognized for excellence in the communications industry, this time being named a winner of the 2008 INTERNET TELEPHONY Excellence Award, presented by Technology Marketing Corporation's (TMC) INTERNET TELEPHONY magazine. The award was presented to companies that provided case studies of IP communications success experienced by one of their clients over the past year. This is the eighth award for Cypress Communications and its hosted unified communications solution, C4 IP™.
"This award is not just about creating an innovative solution; it's about showing how innovation can be leveraged by companies for their benefit, and we are incredibly honored to be recognized in this capacity," said Frank Grillo, executive vice president of marketing at Cypress Communications. "The IT Excellence Award is unique because it recognizes not just the success of Cypress Communications, but the success of one of our clients that has come as a result of our solution being implemented, and that is an honor in itself."
Cypress Communications' case study focused on one of the largest hosted VoIP and hosted unified communications deployments on record with more than 2,800 users. The customer wanted the productivity benefits of VoIP and unified communications while retaining the reliability and sound quality of their traditional TDM telephone system. The solution had to provide the firm's current communication features plus offer state-of-the-art integrated multimedia and conferencing technology, a single unified messaging system, as well as cost-effective long distance and mobility, all while creating a seamless connection between the firm's multiple offices, helping them avoid new capital expenses and reducing year-over-year spending.
The client set the bar high, and Cypress Communications leapt to the challenge with C4 IP, an enterprise-class hosted VoIP and hosted unified communications solution that features integrated voice and data access, desktop phones, PC-based phones, unified messaging and cutting-edge multimedia applications such as Outlook® integration , collaboration, real-time presence , desktop video, chat, and audio, video and Web conferencing. This innovative functionality is backed with LAN/WAN management, a 24/7 fully redundant national VoIP network and high-touch customer service, making it ideal for firms in the professional services industry.
"Cypress Communications utilized its time, talent and resources to deliver a solution that is innovative in concept, robust in its delivery and successful in meeting the needs of its clients. We are pleased to present this award to Cypress Communications and look for more great things from them in the future," said TMC president, Rich Tehrani.
About INTERNET TELEPHONY magazine
INTERNET TELEPHONY has been the IP Communications Authority since 1998. Beginning with the first issue in February of 1998, INTERNET TELEPHONY magazine has been providing unbiased views of the complicated converged communications space. INTERNET TELEPHONY offers rich content from solutions-focused editorial content to reviews on products and services from TMC Labs. INTERNET TELEPHONY magazine reaches more than 225,000 readers, including pass-along readers. For more information, please visit http://www.itmag.com.
About TMC
Technology Marketing Corporation (TMC) is an integrated global media company helping our clients build communities in print, in person and online. TMC publishes Customer Interaction Solutions, INTERNET TELEPHONY, Unified Communications, and IMS Magazine. TMC is also the first publisher to test new products in its own on-site laboratories, TMC Labs. TMCnet, TMC's Web site, is the leading source of news and articles for the communications and technology industries, serving as many as three million unique visitors globally each month according to Webtrends. In addition, TMC produces INTERNET TELPHONY Conference & EXPO, Call Center 2.0 Conference and Communications Developer Conference.
For more information about TMC, visit http://www.tmcnet.com.
About Cypress Communications
Boasting a 20-year legacy and 6,500+ customers coast-to-coast, Cypress Communications delivers voice, data and Internet solutions to small- and mid-sized enterprises, including a fully hosted VoIP and unified communications solution. Users benefit from integrated voice and data access, desktop phones, soft phones, local and long distance service, voicemail, collaboration tools and remote office functionality. From their computers, users can take advantage of productivity-enhancing applications like real-time presence, desktop video, unified messaging, chat, file sharing, and Outlook® integration. As a Deloitte Fast 50 and Fast 500 award recipient, Cypress Communications is recognized as one of the fastest growing telecommunication companies in North America. The company has also been recognized as one of Atlanta's Best Places to Work and presented with the Technology Association of Georgia's Excalibur Award, TMC Labs Innovation Award, VON Magazine Innovator Award, Unified Communications Product of the Year, Communications Solutions Product of the Year, Product Innovation Award for Business Continuity and the Internet Telephony Excellence Award. The company's Web address is http://www.cypresscom.net.
© 2006-2008 Cypress Communications, Inc. The Cypress Communications logo is a service mark of Cypress Communications, Inc. C4 IP is a trademark of Cypress Communications. Connect, communicate, collaborate and continue is a trademark of Cypress Communications. All other marks used herein are the property of their respective owners.
For more information, contact:
Heather Whitt
Cypress Communications
404-442-0034
hwhitt @ cypresscom.net
# # #