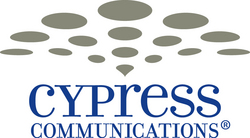 For over 20 years, Cypress has built upon its extensive experience managing communications and its strengths in innovation to negotiate the ups and downs of the telecom industry
Atlanta, GA (Vocus) March 26, 2009
Cypress Communications® is pleased to announce that the company's chief executive officer, Steve Schilling, has been presented with the Atlanta Chapter of the Association for Corporate Growth's (ACG Atlanta) Phoenix Award. The award is given in recognition of the renewal of Cypress and in congratulations for the company's growth outlook. Under Schilling's leadership, Cypress transformed into the premier provider of hosted unified communications and managed IT services. Schilling also had the honor of giving the keynote address at ACG Atlanta's dinner event, where he chronicled the Cypress story, the company's achievements and its plans for continued growth.
"For over 20 years, Cypress has built upon its extensive experience managing communications and its strengths in innovation to negotiate the ups and downs of the telecom industry," said Schilling. "Time and again, industry experts tell us that our story, our solutions, and most of all, our approach to unified communications is unique and vital to the marketplace. I am honored to accept this award from ACG Atlanta on behalf of all those at Cypress who have been a part of the company's transformation."
"Cypress Communications is the perfect recipient of the Phoenix Award, which is given annually to a company in the Southeast that demonstrates a successful renewal from adversity," said Katherine Morris, president of ACG Atlanta and tax partner at BDO Seidman, LLP. "In an economic cycle where it is hard to justify capital spending, Cypress Communications has found a niche with services that reduce costs and complexity for businesses."
Schilling took the helm at Cypress Communications in 2007, just as Cypress was solidifying its presence in the VoIP and unified communications market. Previously, Cypress had focused exclusively on shared tenant services, leveraging as many as 1500 private branch exchanges (PBXs) across the United States to provide voice and data services. However, Cypress expanded out of this legacy business to revolutionize the communications industry with the introduction of a fully integrated hosted VoIP and unified communications solution, C4 IP. And in 2007, Cypress developed and deployed a one-of-a-kind IP network that propelled C4 IP - and Cypress - to the forefront of the industry.
"We have judiciously set our strategic objectives and have worked diligently to make significant strides in attaining these goals. Cypress has achieved tremendous progress over the last two years, and our hosted unified communication solutions have seen significant market penetration. Cypress' position as a leader today can be attributed to the company's unwavering commitment to providing best-of-class services while continuing to push the envelope of innovation," Schilling continued.
About ACG
The ACG is the premier association for and about professionals involved in middle-market corporate growth, corporate development, and mergers and acquisitions. It promotes the professional interests of its members by offering a forum for quality programs, education and networking, and provides the strongest network in existence for executives involved in middle-market business growth and development. It ranks first among international associations of its kind with over 12,000 members.
For more information about ACG Atlanta, please visit, http://www.acg.org/atlanta/.
About Cypress Communications
For over 20 years, Cypress Communications has been helping small-to-medium enterprises (SMEs) connect, communicate, collaborate and continue™ with a range of fully hosted and managed voice, data and Internet solutions. Beginning in 2006, Cypress revolutionized the communications industry with its hosted VoIP and hosted unified communications solution, C4 IP, making it easy for SMEs to take advantage of productivity-enhancing technology such as integrated audio and Web conferencing, multimedia collaboration tools, presence, chat, Microsoft® Outlook integration, and more. As a Deloitte Fast 50 and Fast 500 award recipient, Cypress is recognized as one of the fastest growing telecommunication companies in North America. In 2008, the company was also named one of Atlanta's Best Places to Work. Cypress' hosted unified communications solution has received numerous awards and accolades, with 10 awards for excellence and innovation to date. The company's Web address is http://www.cypresscom.net.
To learn more about hosted unified communications, visit the company's UC 360 blog at http://blog.tmcnet.com/uc-360.
For more information, contact:
Heather Whitt
Cypress Communications
404-442-0034
© 2006-2009 Cypress Communications, Inc. The Cypress Communications logo is a registered service mark of Cypress Communications, Inc. C4 IP is a trademark of Cypress Communications. Connect, communicate, collaborate and continue is a trademark of Cypress Communications. All other marks used herein are the property of their respective owners.
# # #