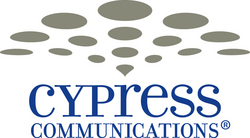 Cypress Communications stands out among its competitors with its superior technologies and skills
Atlanta, GA (Vocus) June 3, 2009
Cypress Communications® today announced that it has been selected as the recipient of the prestigious 2009 North American Hosted IP Telephony Market Product Differentiation Innovation Award, presented by Frost & Sullivan. The award is given to the company that has best demonstrated the ability to develop and/or advance products with more innovative capabilities than competing vendors and products.
"Cypress Communications stands out among its competitors with its superior technologies and skills," said Elka Popova, Director of Unified Communications Information and Communication Technologies for Frost & Sullivan. "Cypress is much better positioned than most of its competitors to offer end-to-end solution management including the platform and applications management, as well as the premise-based equipment which includes the routers, the LAN switches and the desktop endpoints. Also, a continued drive toward innovation and increasing the value offered to its business customers will help Cypress differentiate and develop a sustainable competitive advantage."
Frank Grillo, executive vice president of marketing at Cypress Communications, added, "We at Cypress are incredibly honored to be recognized by Frost & Sullivan for product differentiation and innovation. We believe that success is premised on innovation, and we work continuously to harness the power of available technologies to develop creative and meaningful solutions that address the critical business needs of small-to-medium enterprises (SMEs). With C4 IP's hosted delivery model, we can deliver new advancements to our customers quickly and efficiently, ensuring that they are always benefitting from the latest communications tools."
Cypress' flagship solution, C4 IP™, is a hosted unified communications solution that is named for its ability to help SMEs connect, communicate, collaborate and continue™. C4 IP delivers converged voice and data services and a powerful suite of collaboration tools that include Microsoft® Outlook integration, real-time presence, file and desktop sharing, chat, and audio, video, and Web conferencing. Since its introduction, C4 IP has been highly regarded by both end-users and industry experts, with Cypress receiving 13 awards for product innovation to date.
C4 IP users get everything--from Cypress' expertise to all the equipment they need--for a single monthly cost. And with C4 IP's scalability, customers only pay for what they need now and can scale services up or down as business needs change. Cypress has also introduced a buyback program, where Cypress will purchase new customers' current phones and replace them with state-of-the-art technology, putting even more money back into customers' budgets.* Frost & Sullivan highlighted the buyback program as a way that businesses can conserve cash while benefitting from an advanced communications solution.
About Frost & Sullivan
Frost & Sullivan, the Growth Partnership Company, enables clients to accelerate growth and achieve best in class positions in growth, innovation and leadership. The company's Growth Partnership Service provides the CEO and the CEO's Growth Team with disciplined research and best practice models to drive the generation, evaluation and implementation of powerful growth strategies. Frost & Sullivan leverages over 45 years of experience in partnering with Global 1000 companies, emerging businesses and the investment community from more than 35 offices on six continents. To join our Growth Partnership, please visit http://www.frost.com.
About Cypress Communications
For over 20 years, Cypress Communications has been helping small-to-medium enterprises (SMEs) connect, communicate, collaborate and continue™ with a range of fully hosted and managed voice, data and Internet solutions. Beginning in 2006, Cypress revolutionized the communications industry with its hosted VoIP and hosted unified communications solution, C4 IP, making it easy for SMEs to take advantage of productivity-enhancing technology such as integrated audio and Web conferencing, multimedia collaboration tools, presence, chat, Microsoft® Outlook integration, and more. As a Deloitte Fast 50 and Fast 500 award recipient, Cypress is recognized as one of the fastest growing telecommunication companies in North America. In 2008, the company was also named one of Atlanta's Best Places to Work. Cypress' hosted unified communications solution has received numerous awards and accolades, with 13 awards for excellence and innovation to date. The company's Web address is http://www.cypresscom.net.
To learn more about hosted unified communications, visit the company's UC 360 blog at http://blog.tmcnet.com/uc-360.
*Details about the buyback program are available online at http://cypresscom.net/bailout.
© 2006-2009 Cypress Communications, Inc. The Cypress Communications logo is a registered service mark of Cypress Communications, Inc. C4 IP is a trademark of Cypress Communications. Connect, communicate, collaborate and continue is a trademark of Cypress Communications. All other marks used herein are the property of their respective owners.
Contact:
Heather Whitt Roberts
Cypress Communications
404-442-0034
###