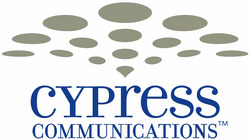 For Cypress, 2008 was a year of many achievements, and we are honored to receive the Unified Communications Excellence Award from TMC's Unified Communications magazine
Atlanta, GA (Vocus) January 6, 2009
Technology Marketing Corporation's (TMC®) Unified Communications magazine has named Cypress Communications® as a recipient of the 2008 Unified Communications Excellence Award for Cypress' hosted unified communications solution, C4 IP™. As an enterprise-class hosted VoIP and hosted unified communications solution, C4 IP made its mark on the communications industry in 2008, garnering a total of 9 awards for product innovation.
"For Cypress, 2008 was a year of many achievements, and we are honored to receive the Unified Communications Excellence Award from TMC's Unified Communications magazine," said Frank Grillo, executive vice president of marketing at Cypress Communications. "This award again confirms what we at Cypress have always believed—that C4 IP is a transformative solution that can make a real difference for small-to-medium enterprises (SMEs). And in an economy where SME budgets and personnel resources are stretched thin, we look forward to helping them boost productivity and conserve cash in 2009."
C4 IP features productivity-enhancing tools such as Microsoft® Outlook integration, real-time presence, audio and Web conferencing, mobility features and support for remote locations and remote workers. Because C4 IP is a fully hosted solution, there's no upfront capital investment in hardware or software, no ongoing maintenance costs, and no need for companies to hire and train additional IT staff to manage the solution. Cypress hosts and manages everything from the network to the phone on each desk, so SMEs can reallocate their resources—both budget and staff—to other projects that can bolster their bottom lines.
"Cypress Communications has proven they are committed to quality and excellence while addressing real needs in the marketplace. Unified Communications is pleased to grant a 2008 Unified Communications Excellence Award to their C4 IP hosted unified communications solution," said Rich Tehrani, TMC President and Editor-in-Chief of Unified Communications magazine. "We're proud to honor their hard work and accomplishments and look forward to more innovative solutions from Cypress in the future."
A full list of Unified Communications Excellence Award winners are published in the November/December, 2008 issue of Unified Communications magazine, http://www.uc-mag.com.
For more information about TMC, please visit tmcnet.com.
About Cypress Communications
Boasting a 20-year legacy and 6,500+ customers coast-to-coast, Cypress Communications delivers voice, data and Internet solutions to small- and mid-sized enterprises, including a fully hosted VoIP and unified communications solution. Users benefit from integrated voice and data access, desktop phones, soft phones, local and long distance service, voicemail, collaboration tools and remote office functionality. From their computers, users can take advantage of productivity-enhancing applications like real-time presence, desktop video, unified messaging, chat, file sharing, and Outlook® integration. As a Deloitte Fast 50 and Fast 500 award recipient, Cypress Communications is recognized as one of the fastest growing telecommunication companies in North America. The company has also been recognized as one of Atlanta's Best Places to Work and presented with the Technology Association of Georgia's Excalibur Award, TMC Labs Innovation Award, VON Magazine Innovator Award, Unified Communications Product of the Year, Communications Solutions Product of the Year, Product Innovation Award for Business Continuity, Internet Telephony Excellence Award, and the Unified Communications Excellence Award. The company's Web address is http://www.cypresscom.net.
About Unified Communications magazine
Launched in July 2007, Unified Communications magazine is devoted to educating enterprise decision makers on why and how they need to deploy unified communications (UC) solutions. Every issue of Unified Communications magazine features a comprehensive news section; case studies of successful deployments and lessons learned; interviews with leading hardware and software companies; and an 'industry' section, featuring analysis of important mergers and acquisition, partnerships and a Wall Street perspective on the unified communications market. Unified Communications has a readership of 160,000.
About TMC
Technology Marketing Corporation (TMC) is an integrated global media company helping our clients build communities in print, in person and online. TMC publishes Customer Interaction Solutions, INTERNET TELEPHONY, Unified Communications, and NGN Magazine. TMC is also the first publisher to test new products in its own on-site laboratories, TMC Labs. TMCnet, TMC's Web site, is the leading source of news and articles for the communications and technology industries. TMCnet is read by three million unique visitors each month worldwide, according to Webtrends. In addition, TMC produces INTERNET TELEPHONY Conference & EXPO and Communications Developer Conference.
For more information about TMC, visit http://www.tmcnet.com.
© 2006-2009 Cypress Communications, Inc. The Cypress Communications logo is a registered service mark of Cypress Communications, Inc. C4 IP is a trademark of Cypress Communications. Connect, communicate, collaborate and continue is a trademark of Cypress Communications. All other marks used herein are the property of their respective owners.
###