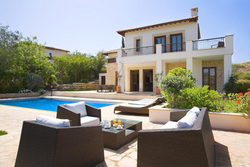 classic large hotel, golf course and property
(PRWeb UK) September 13, 2010
Global — Prime Location names Aphrodite Hills amongst the 'Top Golfing Resorts', 2010:
Savills Select Resorts is delighted to announce that Aphrodite Hills, an amazing Golf course set in picturesque Cyprus has been named one of the top golfing resorts in the world by location and residential authority, PrimeLocation.com.
Using strict judging criteria, PrimeLocation chose to award Aphrodite Hills this ahead of the 2010 Euro Pro Tour Final, on the 30th September – 3rd October 2010, confirming the fine pedigree and outstanding facilities as top notch. Described as a 'solid PGA academy', the resort has boasted guests such as James Blunt, Kenny Dalglish, and Mick Hucknall, making it a celebrity hotspot as well as a five star resort and course.
Aphrodite Hills, set in a gorgeous area of the Cypriot coastline is a prestigious resort with top class facilities. Aphrodite Hills has been recognised as a top golfing getaway by PrimeLocation, creating a unbeatable seal of approval for the hotel and resort. Whether you're looking to get away for a holiday or looking for luxury property for sale in Cyprus Aphrodite Hills is an ideal location, with gorgeous properties, a top class course and facilities to match.
The resorts features a 290 room Intercontinental Hotel with facilities such as a spa, swimming pool and of course a full size golf course and academy, it's an outstanding place to stay whether you're a family, or an avid golfer. Understated and classy, the resort is on the Greek side of the island and is set in over 550 acres of land and includes a top tennis academy, village square, fine dining and family restaurants. Situated in the 'sweet spot', 15 minutes from the local airport, it's neither too close, and therefore overflown and noisy, or too far and off the beaten track. It's an enjoyable location with lots to do on site – but if you're going there for Golf, the facilities are first class.
PrimeLocation.com included the resort amongst the top golf resorts in the world and were full of praise for the development. The resort was described as having a "classic large hotel, golf course and property" which is both "classy" and "authentic". The course itself was described as "An interesting mix of manicured Bermuda fairways, challenging pot bunkers and large tiered greens, the best 18 holes in Cyprus winds through olive and carob trees and is built on two plateaux separated by a dramatic ravine with outstanding Mediterranean views"
Read more: http://www.primelocation.com/articles/cyprus-golf-property#ixzz0z7vSHgBP
Aphrodite Hills have a fantastic selection of Cyprus property for sale through Savills Select Resorts. These luxury properties for sale in Cyprus include stunning villas and apartments spread across the resort, including the latest, Villa Hani, a superb restoration of an 19th century stone inn . The resort developers, Lanitis Development, are continuing to develop the resort and are expected to announce a fantastic new addition to the resort in the next month. Further information on the exciting new property opportunities at Aphrodite Hills are available from Savills Select Resorts who can guide you in identifying the perfect investment, holiday or retirement property for you.
For additional information or a sample copy, Contact:
Michael Reilly
00 44 1202 786490
Select Resorts has been providing international property sales since 1982. We pride ourselves on being the best and provide our customers with advice and support, from initial enquiry to property purchase. In association with Savills, we offer honesty, professionalism and unrivalled support to our clients, no matter their needs. We have Aphrodite Hills Property for sale year round and offer luxury property for sale in Cyprus.
###