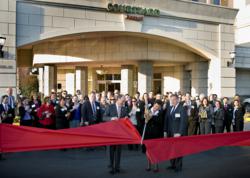 Tysons Corner, Virginia (PRWEB) March 20, 2012
On Wednesday, March 7, 2012, the Courtyard by Marriott Tysons Corner hotel hosted a guest reception and ribbon-cutting event to officially announce the completion of its recent 'Courtyard Refreshing Business' renovation.
The reception and ribbon-cutting event was a huge success and drew the attendance of Visit Fairfax President & CEO, Barry Biggar, along with several other community leaders, including representatives from local Chambers of Commerce.
"This is one of our top-performing hotels and its presence in the Tysons Corner community is an anchor for both our portfolio and the Tysons market," says Mark Carrier, president of the hotel's ownership and management company, B. F. Saul Company Hospitality Group. "With all the exciting changes going on in Tysons, including the addition of the Metro, this renovation positions us well for the future and we are extremely fortunate to have great loyalty from our valued guests"
The ribbon-cutting event showcased all the new facets of the hotel's service offering, including great snacks from The Bistro, as well as a Cherry Blossom-themed signature cocktail and delectable hors d'oeuvre and desserts from the Courtyard's Tysons Corner catering team.
Adding a nice touch to the event was a group toast to "A New Stay," the new mantra for the Courtyard by Marriott brand, led by hotel general manager, Sandra Stulen.
With the hotel's new additions, including its new all-day quick service food concept, The Bistro, which serves hot breakfast, lunch, and dinner sandwiches, meals, and snacks, as well as a full variety of Starbuck coffee drinks, the Courtyard by Marriott Tysons Corner continues to be one of the best hotels in Tysons Corner. In addition to The Bistro, this McLean, VA hotel also offers The Terrace, a very elegant and intimate, multi-faceted event venue in Tysons Corner.
About WashDCHotels.com
Based in Bethesda, MD, WashDCHotels.com is a DC destination and tourism site for the B. F. Saul Company Hospitality Group, a subset of a larger, private real estate firm, B. F. Saul Company. Within the Hospitality Group the company represents a collection of full service, select service, and extended stay hotels located in MD, VA, MI and FL. WashDChotels.com serves both business and leisure guests seeking first class DC hotel accommodations, Washington, D.C. area meeting facilities, and banquet venues. The company also operates two IACC Certified Northern Virginia Executive Conference & Training Centers. To learn more about the B. F. Saul Company Hospitality Group go to http://www.bfsaulhotels.com.