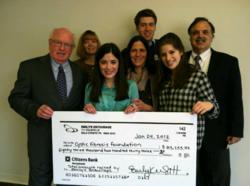 Their world was shattered when at six weeks, their sweet Emily was diagnosed with Cystic Fibrosis
Philadelhpia, PA (PRWEB) April 05, 2012
The Cystic Fibrosis fundraiser held by Emily's Entourage has been received with great success both at on-site events and as an online t-shirt fundraiser. The non-profit group worked with Rush Order Tees to print their official fundraising t-shirt via the Emily's Entourage website and grass roots charity events.
All funds raised by the Cystic Fibrosis charity will be donated to the Cystic Fibrosis Foundation in the effort to cure Cystic Fibrosis.
On January 9th 1985 at the ripe hour of 10:17 pm, Emily made her debut in the world. She had jet-black hair, porcelain skin and a dimple in her chin. Her parents were giddy with excitement and sheer shock that they had created such a beautiful baby. Their world was shattered when at six weeks, their sweet Emily was diagnosed with Cystic Fibrosis, a progressive and fatal genetic disease that primarily affects the lungs and digestive system.
Overcome with fear, sadness and complete shock, Emily's parents made a decision to normalize her life while optimizing her medical care to make her life as long, joyous and fulfilling as possible.
Twenty-six years, a high school diploma and bachelor's degree later, Emily is facing advanced – and progressing — Cystic Fibrosis. Each day, Emily spends countless hours on CF treatments and therapies trying to salvage every ounce of lung function to prolong end-stage treatments for as long as possible.
She gets no breaks. No vacations.
While her medical care is a full-time job in its own right, Emily also works in health care marketing and is pursuing a master degree in bioethics at night. She loves to travel, is an avid tennis fan, enjoys a good laugh and cherishes her friends and family more than anything.
It is with determination, unflappable perseverance and courage that Emily fights for each day with a glimmer of hope in her eye and an insatiable desire for tomorrow.
Emily's Entourage gives 100% of the donations to the Cystic Fibrosis Foundation.
--
About Emily's Entourage
It started as a small-scale fundraiser for a local CF stair climb by a group of people who loved Emily and are desperate for a CF cure.
It didn't take long to realize that traditional fundraising efforts could only go so far. To really make an impact, it takes a community of people with a common goal. That's where Emily's Entourage comes in.
Emily's Entourage is made up of people who have had enough of this deadly disease and take a stand against CF. Together, they make a difference.
Emily's life has been about achieving excellence while skillfully managing the significant obstacles presented by CF. Emily throws her heart and soul into everything she does. From her dedication to excelling professionally to her passion for school, impeccable management of CF and unparalleled devotion to the people she loves, Emily doesn't do anything halfheartedly.
--
About Rush Order Tees | a Printfly Company
Printfly and Rush Order Tees are eCommerce based businesses built on repeat business and referrals from satisfied customers, Rush Order Tees has grown to be a major leader in the custom shirt printing industry.
Since it's founding in 2002, Rush Order Tees has expanded its product offering beyond custom printed shirts to include a wide variety of sports, academic, community-driven, commercial and business offerings.
As it began to grow out of it's prior facilities, Rush Order Tees acquired a 15,000 SF facility in Philadelphia, PA which they equipped with over twenty of the highest quality screen printers, digital printers (DTG Direct to Garment printers), screen exposure units, screen printing heaters and much more. Now, in 2012, the business continues to grow to a point that now requires a new facility and offices.
Their customers have voiced their well earned allegiance and appreciation across many consumer-driven review sites earning Rush Order Tees and Printfly overwhelmingly positive online rating and reviews across the leading sites including Google, Superpages, Yellow Pages, and the Better Business Bureau where they hold a certified A+ Accredited Rating.
Contact Rush Order Tees at 1 (800) 620-1233