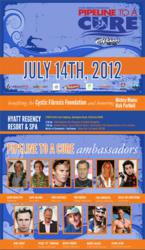 Huntington Beach, CA (PRWEB) July 13, 2012
Sharing a passion for surfing, swimming and helping others, more than a dozen musicians, gold medalists and surfing legends have joined together to support the 5th Annual Pipeline to a Cure Gala to raise funds to find a cure for cystic fibrosis.
Tony Award and Grammy Award winning musicians Billie Joe Armstrong and Mike Dirnt of Green Day, world champion surfers Lisa Andersen, Tom Curren and Peter "PT" Townend, surf legend Mickey Munoz, skate legend Tony Hawk and gold medal swimmers Rowdy Gaines and Jason Lezak join watermen Laird Hamilton and Dave Kalama to raise awareness of cystic fibrosis, a deadly inherited disease.
Cystic fibrosis affects the lungs and digestive system of about 30,000 children and adults in the United States (70,000 worldwide). A defective gene and its protein product cause the body to produce unusually thick, sticky mucus that clogs the lungs and leads to life-threatening lung infections, and obstructs the pancreas and stops natural enzymes from helping the body break down and absorb food. The average lifespan of someone with cystic fibrosis is 37 years old.
The Pipeline to a Cure event was created to herald the discovery by Australian researchers who found that children with cystic fibrosis who surfed had significantly healthier lungs. Doctors determined that inhaling saltwater mist has a powerful effect on rehydrating the lining of the lungs, which allows cystic fibrosis patients to more easily eliminate bacteria-contaminated mucus. This discovery led researchers to develop a hypertonic saline solution, which cystic fibrosis patients around the world now inhale every day. In essence, cystic fibrosis patients now mimic a "surf session" on a daily basis.
Over the past five years, Pipeline to a Cure has raised more than $1.5 million for research to help find a cure for Cystic Fibrosis.
"In January, the FDA approved the Vertex drug Kalydeco. For the very first time a drug will treat the basic cause of CF and those who have taken it feel remarkably different. This is a game changer for CF. Although Kalydeco only treats 4% of the CF population, the science behind the drug is opening exciting new doors to research and development, that will hopefully lead to the answers for everyone with CF," said Paul Motenko, president of the Cystic Fibrosis Foundation, Orange County Chapter. "The funds raised at Pipeline go directly to this lifesaving research and without the support of our ambassadors, and founding co-chairs Laird Hamilton and Dave Kalama, and so many others, we would not be able to make this progress. Through Pipeline we want to continue to reach out to others who want to help these children and young adults with Cystic Fibrosis live to fulfill their dreams."
Others who have lent their support to Pipeline include surfers Bethany Hamilton, Rob Machado, Jeff Clark, Jericho Poppler and Gerry Lopez; celebrities Gabrielle Reece, Tia Carrere, Kiptyn Locke (Bachelor Pad), and, former Angels great Tim Salmon.
For ticket information, please visit http://www.pipelinetoacure.com or call the Cystic Fibrosis Foundation at (714) 938-1393.
About Cystic Fibrosis Foundation
The mission of the Cystic Fibrosis Foundation, a nonprofit donor-supported organization, is to assure the development of the means to cure and control cystic fibrosis and to improve the quality of life for those with the disease. The Foundation is the leading organization in the United States devoted to cystic fibrosis. It funds and accredits more than 115 CF care centers, 95 adult care programs and 50 affiliate programs, and has 80 chapters and branch offices nationwide.
The Cystic Fibrosis Foundation is one of the most efficient organizations of its kind. It has received a four-star rating for sound fiscal management from Charity Navigator, the largest independent charity evaluator in the United States and is an accredited charity of the Better Business Bureau's Wise Giving Alliance. The Foundation's business model has been recognized by the National Institutes of Health and by publications such as Forbes, The New York Times, The Wall Street Journal and BusinessWeek.
Michael Shumard
Cystic Fibrosis Foundation
714-938-1393
MShumard(at)CFF(dot)org
The H.O.M.E Foundation is Proud to Support the Cystic Fibrosis Foundation
About The H.O.M.E. Foundation:
The Helping Others Means Everything, or The H.O.M.E. Foundation, is a not-for-profit organization dedicated to helping our Family of Charities. Frank Verdugo, President of The HOME Foundation, wants to help as many worthy charities as possible as they struggle during these tough economic times. Frank Verdugo helps raise funds through luxury dream home raffles, prizes, and high profile celebrity events in Hollywood... "Our mission is to help charities reach their fundraising goals and to bring awareness to their praiseworthy causes."
# # #