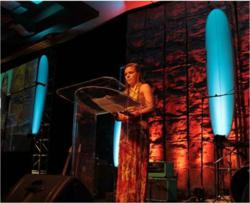 Because of all of our amazing sponsors, supporters and committee members we were able to raise $465,000 in net revenue! - says Michael Shumard
Huntington Beach, CA (PRWEB) July 16, 2012
"Pipeline to a Cure 2012 was our most successful year ever. Because of all of our amazing sponsors, supporters and committee members we were able to raise $465,000 in net revenue! We are so thankful for everyone's support and love!" says Michael Shumard of the Cystic Fibrosis Foundation.
Saturday night at the Hyatt Regency Huntington Beach Resort and Spa had the cool and casual atmosphere of a high class Hawaiian luau. Unlike the glitz and glamour of a normal charity gala fundraiser, guests were encouraged to wear their nicest Hawaiian shirts and the women came in beautiful maxi dresses and adorable wedges. The evening felt relaxing, fun and yet still full of purpose, the purpose to focus on raising awareness and money for an important cause, the Cystic Fibrosis Foundation. The Pipeline gala raised more than $465,000, bringing the total of the Pipeline campaign to nearly $2 million.
Cystic Fibrosis ambassador 17-year-old high school senior Carly Lindmeier shared her story and struggle with the hereditary disease, noting the difficulty she has faced while dealing with hours of daily treatments, dozens of medications and the repercussions of Cystic fibrosis-related diabetes. Carly talked about skipping treatments, which ultimately led to a 17-day hospital stay. She said the Pipeline supporters bolster her sense of hope to continue the fight with a positive attitude.
Following Carly's speech, attendees contributed to Bid for a Cure, where all dollars go directly to research. LA Car Guy's Mike Sullivan matched donations, bringing the total contributions for Bid for a Cure to $135,000.
Mavericks' legendary surfer Mickey Munoz and marketing expert Rick Parkhill were honored by Pipeline for their commitment to cystic fibrosis.
Other celebrity attendees included former Angels great Tim Salmon, Mike Ness of Social Distortion, former world champion surfer Peter "PT" Townend, and surf legends Jericho Poplar and Jeff Clark.
The Pipeline to a Cure event was created to herald the discovery by Australian researchers who found that children with cystic fibrosis who surfed had significantly healthier lungs. Doctors determined that inhaling saltwater mist has a powerful effect on rehydrating the lining of the lungs, which allows cystic fibrosis patients to more easily eliminate bacteria-contaminated mucus. This discovery led researchers to develop a hypertonic saline solution, which cystic fibrosis patients around the world now inhale every day. In essence, cystic fibrosis patients now mimic a "surf session" on a daily basis.
Cystic fibrosis affects the lungs and digestive system of about 30,000 children and adults in the United States (70,000 worldwide). A defective gene and its protein product cause the body to produce unusually thick, sticky mucus that clogs the lungs and leads to life-threatening lung infections, and obstructs the pancreas and stops natural enzymes from helping the body break down and absorb food. The average lifespan of someone with cystic fibrosis is 37 years old.
About Cystic Fibrosis Foundation:
The mission of the Cystic Fibrosis Foundation, a nonprofit donor-supported organization, is to assure the development of the means to cure and control cystic fibrosis and to improve the quality of life for those with the disease. The Foundation is the leading organization in the United States devoted to cystic fibrosis. It funds and accredits more than 115 CF care centers, 95 adult care programs and 50 affiliate programs, and has 80 chapters and branch offices nationwide.
The Cystic Fibrosis Foundation is one of the most efficient organizations of its kind. It has received a four-star rating for sound fiscal management from Charity Navigator, the largest independent charity evaluator in the United States and is an accredited charity of the Better Business Bureau's Wise Giving Alliance. The Foundation's business model has been recognized by the National Institutes of Health and by publications such as Forbes, The New York Times, The Wall Street Journal and BusinessWeek.
Michael Shumard
Cystic Fibrosis Foundation
714-938-1393
MShumard (at) CFF (dot) org
Barbara Caruso
Caruso Communications
714-841-6777
CarusoCom (at) aol (dot) com
The H.O.M.E Foundation is Proud to Support the Cystic Fibrosis Foundation
About The H.O.M.E. Foundation:
The Helping Others Means Everything, or The H.O.M.E. Foundation, is a not-for-profit organization dedicated to helping our Family of Charities.Frank Verdugo, President of The HOME Foundation, wants to help as many worthy charities as possible as they struggle during these tough economic times. Frank Verdugo helps raise funds through luxury dream home raffles, prizes, and high profile celebrity events in Hollywood... "Our mission is to help charities reach their fundraising goals and to bring awareness to their praiseworthy causes."
# # #