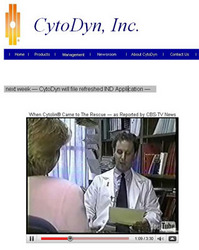 We're excited about the progress we've made in preparing for the next clinical trial of Cytolin
Santa Fe, NM (PRWEB) October 22, 2008
Although HIV and AIDS are substantially more treatable now than during the height of the AIDS epidemic in the 1980s, numerous challenges still face AIDS and HIV patients and AIDS researchers. One major concern is that drug-resistant strains of HIV are emerging globally, but there is hope that Cytolin, a first-in-class AIDS and HIV treatment from CytoDyn, Inc., can help address this problem.
A new clinical trial to reinvestigate dosing specifications for Cytolin will be conducted in San Francisco, California, by Dr. Jay Lalezari, a leading AIDS researcher. The study will be managed by New York City-based Target Health, Inc., which CytoDyn, Inc. has retained to serve as its contract research organization for the project.
Cytolin is based on a decade of progress in immunology. Community physicians used the drug experimentally at the height of the AIDS epidemic to rescue patients when no effective antiviral treatments had yet been approved for people with AIDS.
"We're excited about the progress we've made in preparing for the next clinical trial of Cytolin," explains Dr. Nadar Pourhassan, Chief Operating Officer of CytoDyn, Inc. "We should soon be prepared to show those unfamiliar with a decade of progress in immunology that science has the solution to multi-drug resistance in HIV/AIDS and, perhaps, other infectious diseases."
Cytolin is a unique treatment for AIDS because it utilizes the immune systems of its users to control HIV infection. Strong immune systems typically control all viruses regardless of their subspecies, which suggests the potential for Cytolin to serve as an effective therapy for HIV/AIDS patients who are failing antiretroviral treatment. The drug may also help suppress drug resistant forms of HIV when used in conjunction with a successfu antiretroviral treatment for AIDS.
Allen D. Allen, Chief Executive Officer of CytoDyn, Inc., says the company philosophy is to maintain complete transparency in its operations. Visitors to CytoDyn.com can view the Company's financial records, share price, and a summary that explains the science behind Cytolin with key references to the literature.
"An enduring recovery of the global economy depends upon capitalists ending their love affair with smoke-and-mirrors, and investing in reality instead of perceptions," says Allen D. Allen, Chief Executive Officer of CytoDyn, Inc. "Unfortunately, innumeracy has to end first, and we hope to contribute to some progress in that regard."
In addition to the upcoming trial of Cytolin, CytoDyn, Inc. is announcing the relocation of its offices to 1511 Third St., Santa Fe, New Mexico. The expanded offices will accommodate new staff members who will be bringing the company's periodic filings up to date.
To learn more about CytoDyn, Inc., the upcoming clinical trials for Cytolin and how Cytolin may be used as an adjunct for antiretroviral treatments for AIDS, visit CytoDyn.com.
Disclaimer: This press release contains forward-looking statements that are not historical facts. CytoDyn's management makes forward-looking statements concerning the Company's expected future operations, performance and other developments. These forward-looking statements are necessarily estimates based upon current information and projections and involve a number of risks and uncertainties, including but not limited to, the failure of preliminary results from clinical studies to reflect the results from more comprehensive studies. There can be no assurance that such risks and uncertainties, or other factors, will not affect the accuracy of such forward-looking statements. It is impossible to identify all the factors that could cause actual results to differ materially from those estimated by CytoDyn. They include, but are not limited to, government regulation, managing and maintaining growth, victimization by white-collar offenders, and the effects of adverse publicity, litigation, competition, and other factors that may be identified from time to time in the Company's announcements.
About CytoDyn, Inc.:
CytoDyn, Inc. is a drug manufacturing firm specializing in new, novel forms of AIDS and HIV treatment drugs. The company is best known for Cytolin, a drug that represents major advances in the treatment of HIV/AIDS. Cytolin offers an alternative by using the immune systems of those suffering from HIV/AIDS, in contrast to using antiretroviral agents to suppress the infection.
###