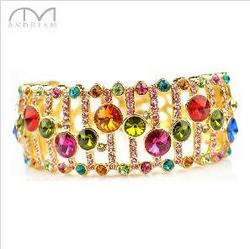 Every woman is unique. Every woman should find the unparalleled jewelry belong to herself. AndreaM considers this as our mission, and it is also consistent with our original intention of design
Livonia, MI (Vocus) July 29, 2010
AndreaM, founded in 2000, has grown to be one of the best known jewelry manufacturers and retailers among the competitive ones, due to high-quality products and comprehensive service. Andreamjewel.com, as an official online store of AndreaM, introduced a series of Cubic Zirconia jewelry on July 15th, 2010.
Jewelry is everlasting and classic. There is nothing that highlights a woman's natural beauty more than a beautiful necklace or pair of earrings. Cubic Zirconia jewelry, regarded as the alternative to diamond, has been rapidly popular since being available in market.
It is known that diamonds are typically quite expensive, and out of the price range of many people. They are generally suitable for evening parties. In contrast, Cubic Zirconia jewelry is extremely durable, and is relatively inexpensive to purchase, suitable for everyday wear.
Cubic Zirconia jewelry is very rarely found in nature, but is often synthetically manufactured from zirconium dioxide and yttrium oxide. They come in a variety of jewelry styles, colors, shapes, pattern, etc. More importantly, compared to diamond, Cubic Zirconia jewelry provides an affordable way to give women a memorable gift that can last a lifetime.
At Andreamjewel.com, various styles of CZ rings collection, CZ bangles collection, CZ bracelets collection, CZ brooches collection, CZ earrings collection, CZ chains collection, CZ charms collection, and CZ necklaces are available to customers in unique and charming shapes, such as rhombus, silver panther, butterfly, heart, and so on.
"We aim to achieve the ideal of every customer visiting our website and wearing our Cubic Zirconia jewelry with an extensive range of options" claimed Simon Mccabe.
Cubic Zirconia collection from Andreamjewel.com is hand-cut, instead of machine cut. The gemstones are polished to perfection and scrutinized visually through a sound design and processing team with systematic mechanism and standard management.
"Every woman is unique. Every woman should find the unparalleled jewelry belong to herself. AndreaM considers this as our mission, and it is also consistent with our original intention of design," said Philip Steven, the Planning Director of Andreamjewel.com, "We will regularly present to our customer the latest CZ jewelry, and believe that you will find your favorite and make your dream come true."
About Andreamjewel.com
Aimed to satisfy customers with unique & elaborately made AndreaM stunning jewelry, Andreamjewel.com is devoted to providing the reliable and latest AndreaM jewelry, such as Cubic Zirconia Jewelry, Pearl Jewelry, Swarovski Crystal Jewelry, Sterling Silver Jewelry, etc at competitive prices, as well as comprehensive service & 24-hour online contact service.
For more information, please visit http://www.andreamjewel.com
# # #