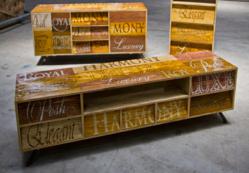 People are searching for ways to solve the many environmental problems facing us all. d-Bodhi aims to take a leadership role to become carbon neutral in our operations and production.
Singapore (PRWEB) March 09, 2012
Singapore furniture company d-Bodhi takes a bold stand to reduce its carbon emissions with the global launch of "Footprint" at the International Furniture Fair Singapore 2012 (IFFS).
Footprint is both a comprehensive carbon neutral, social responsibility program and the theme of this year's furniture collections at IFFS.
Creating furniture from reclaimed teak wood established d-Bodhi from its founding in November 2007 as an eco-conscious company.
Each year they add new recycled raw materials to the furniture lines including galvanized iron, boat wood, denim jeans and now pallet wood. The key is maximizing each resource, including every piece of wood.
d-Bodhi's carbon footprint is already lower than many other furniture manufacturers. Using mainly reclaimed wood from old houses means few trees are cut in the first place. Huge kilns and drying ovens, along with the fuel to run them, are unnecessary. Skilled carpenters build the furniture by hand with simple electric drills and saws. There are no vast factory machines requiring energy and maintenance.
Still, they want to do more.
d-Bodhi seeks a broader vision with the long-range goal of producing truly carbon neutral products for the global market and to become the most environmentally sound, socially conscious business possible.
Anita Sam, d-Bodhi Director, said they started asking, "How can we produce furniture in one country, send it all over the world and still maintain an ecological balance? How can we give our customers a way to participate with us in giving back more than we use to make our goods? This led us to create our comprehensive Footprint program."
As an important first step, d-Bodhi is partnering with the Trees4Trees™ foundation where one tree is planted for each item sold. To kick off Footprint, they are donating 1,000 trees to Trees4Trees™ to compensate the carbon output for their IFFS booth.
In addition, d-Bodhi signed the United Nations Global Compact in support of 10 principles on environment, human rights, labor and anti-corruption. They join with over 6,000 businesses in a leadership platform of the world's largest voluntary corporate responsibility initiative. An annual Sustainability Report enables the public to hold d-Bodhi accountable to their commitments.
At the local level, d-Bodhi is a Gold Member of the Singapore Compact for Corporate Social Responsibility, placing them in a position to learn, influence and join with others to change "business as usual."
d-Bodhi is now forming an internal Corporate Social Responsibility Unit to assess operations, set policies and standards and guide progress to reach annual goals. As the work continues, new ways will be developed to bring d-Bodhi customers fully carbon neutral furniture, helping them step lighter on the planet.
Ms. Sam comments, "People are searching for ways to solve the many environmental problems facing us all. d-Bodhi aims to take a leadership role in delivering outstanding furniture designs that actually let people give something back both through Trees4Trees™ and our commitment to become carbon neutral in our operations and production."
Footprint Collections at IFFS 2012
Designed for those who appreciate the creative spirit, d-Bodhi transforms reclaimed raw materials others would throw away into distinctive, eco-furniture fit for today's casual lifestyle – while helping customers give back to the environment at the same time.
Footprint's six new dynamic furniture collections introduce recycled shipping pallets, a brand new recycled boat wood collection, and fresh iron and teak wood combinations. In addition, d-Bodhi's popular TubeLine and d-Blue denim collections expand with several new models.
d-Bodhi Awards
Within four short years, d-Bodhi was honored to receive five awards at the International Furniture Fair Singapore, twice for the overall booth, as well as two Dining Room Exhibit displays and a Bedroom Exhibit display. In 2011, they received a Platinum MarCom Award (Marketing Communications) for their first hardcover book, d-Bodhi 2011, along with a Gold MarCom Award for their website.
d-Bodhi Booth and IFFS Show Details
Known for creating an exciting themed booth for IFFS each year, d-Bodhi's 700 sqm exhibition booth is in the Singapore Expo Hall 5B-11 & 12. Located at #01-01, 1 Expo Drive, Singapore, 486150.
Open to the Trade by business card registration only.
9-11 March 2011, 0900hrs – 1800hrs.
12 March 2011, 0900 hrs – 1700 hrs.
About d-Bodhi, Pte Ltd
d-Bodhi is committed to bring carbon neutral furniture to the market through the new Footprint program, helping customers step lighter on the planet. d-Bodhi creates award-winning furniture designs using a variety of reclaimed and recycled materials including teak wood, old boat wood, galvanized iron, used denim jeans, and shipping pallets. Stepping into the fifth year of operation, d-Bodhi is found in nearly 30 countries worldwide.