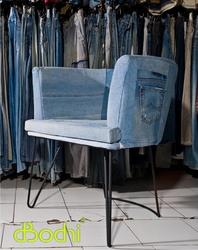 "d-Bodhi stands for our innovation of design, creative adaptation of recycled materials and our commitment to extending our vision each year with several new collections." Raymond Davids, d-Bodhi Founder
Singapore (PRWEB) March 8, 2011
Recycled denim jeans get a whole new lease on life in the d-Blue Collection, one of eco-friendly furniture company d-Bodhi's 2011 IFFS Street Art collections. That raw, urban energy shines in the d-Bright collection of 13 models of table, floor and wall lamps, while dynamic fresh combinations of recycled teak wood and brushed-iron add to d-Bodhi's foundation furniture collections. And dB Couture Collection presents clothing with a street smart attitude.
Well known for their solid recycled teak wood furniture, along with metal and wood combinations, this year's Street Art collections expand on d-Bodhi's quest to seek out new materials to reuse and reshape into distinctive, upbeat designs.
As the demand for reclaimed teak wood raw materials grew, d-Bodhi's design team kept asking, "What other materials can we reuse and recycle? Why stop at teak wood furniture? Let's expand our vision and get even more creative." This drive to use material others would trash and turn it into treasure, a fresh new product with many more years of use, is the hallmark of d-Bodhi.
Now exhibiting for the fourth year at IFFS, founder Raymond Davids wants furniture buyers "to understand what d-Bodhi stands for ... our innovation of design, creative adaptation of recycled materials and our commitment to extending our vision each year with several new collections."
The show stopper this year is bound to be the d-Blue seating collection. Each year thousands of kilos of used jeans land in second hand stores in Indonesia, where production headquarters is located. Always on the look out for innovative raw materials that are easy on the environment, the d-Bodhi creative team dreamed up this imaginative line of casual chairs, puffs, even a coffee table made from recycled jeans. Two different sized jean bag chairs, plus colorful denim covered lounge chairs complete the collection.
This year's teak wood furniture uses even more left-over pieces of softly faded colorful recycled wood from old houses, often combined with brushed-iron for a decorative look and structural support.
Expanding on the Street Art theme led to the d-Bright lighting collection, floor, table and wall lamps in a bold, artistic look with subtle industrial or graffiti patterns on the lamp shades.
Last but not least, the dB Couture collection extends d-Bodhi's lifestyle concept with extremely soft denim jeans and T-shirts that deliver an edgy, casual chic style no matter where they're worn. Reprocessed cotton waste materials make up 17 percent of the denim fabric.
Spontaneous Combustion!
d-Bodhi Showcases Indonesian Street Artists in IFFS Booth
Street Art at IFFS 2011 commands attention with spontaneous artwork from two street artists working in Yogyakarta, Java. Created especially for the show, Love,Hate,Love and his fellow artist, Muck, added their signature marks to the booth as well as several one-of-a-kind furniture pieces available only at the show.
Expect the unexpected with d-Bodhi.
To catch the spirit of d-Bodhi's creative design, members of the public can visit the booth on 12 March from 1700 – 1900 hours (5pm – 7pm).
Award-Winning Designs
d-Bodhi's eco-friendly furniture lines won four awards in three years at IFFS. In 2008, they won the Best Dining Room Exhibit award. In 2009, for Best Bedroom Exhibit award, while in 2010, they won two awards, Best Stand award and Best Dining Room Exhibit award. In addition, in 2008 at the HTC exhibition in The Netherlands, they won the Most Inspiring Presentation award.
d-Bodhi Booth and Show Details
d-Bodhi's 600 sqm booth is in the Singapore Expo Hall 5C-11 & 12. Located at #01-01, 1 Expo Drive, Singapore, 486150.
Open to the Trade by business card registration only.
9-11 March 2011, 0900hrs – 1800hrs.
12 March 2011, 0900 hrs – 1700 hrs.
Open to the public ONLY in the evening, 12 March 2011 from 1700hrs – 1900hrs.
 
For additional information contact Linda Kaun or visit the d-Bodhi website.
About d-Bodhi Pte. Ltd.
d-Bodhi was founded in November 2007 by Raymond Davids. Reusing and shaping recycled raw materials others would throw away, d-Bodhi creates handmade furniture and lifestyle products with a story to tell. Stepping into the fourth year of operation, d-Bodhi presents premium product lines from the most humble materials. Distinctive designs that are fresh, bold, well-crafted, sustainable and keep their ecological footprint to a minimum.
###