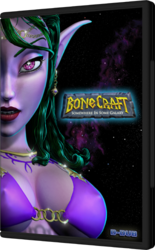 Get ready for orc hordes, risque robots, arousing elves, and much more!
Albuquerque, New Mexico (PRWEB) December 22, 2011
Pack your staffs and ready your swords, because D-Dub Software has started pre-orders and announced a release date for their highly anticipated sexy Sci-Fi/Fantasy parody game, BoneCraft. Captain Fort Worth and his rowdy crew of Space Wranglers and Robots will plunge their ship into the Orc and Elf-filled fantasy land of BoneCraft on January 12, 2012. The first-person hack-and-slash shooter game is the second release from the studio that brought you the risque action-adventure video game BoneTown.
BoneCraft pre-orders start today, with pre-order customers receiving exclusive content--a special C3P-Ho robot and Golden Fist weapon--when the game releases. Pre-order customers will also have the opportunity to take part in BoneCraft open beta.
In the game, the player will use the Captain's skills of seduction and his team's expertise in interstellar extinction to search the hostile environment of their new planet for the galaxy's Holy Grail: the Elf Queen and her band of naughty minions.
Captain Fort Worth will be played by legendary voice actor Neil Kaplan. Kaplan has voiced such iconic characters as Tychus from StarCraft II, Optimus Prime in the Transformers series, and many more.
"Everyone who has ever played a fantasy or sci-fi game has wondered what it would be like to go all the way with the sexiest creatures in the galaxy. Now, in BoneCraft, you can," says Max Baptist VIII, Marketing Director of D-Dub. "Get ready for orc hordes, risque robots, arousing elves, and much more! We all grew up with great sci-fi and fantasy stories, but BoneCraft takes it to the next level as the ultimate erotic parody of them all."
BoneCraft will be available for the PC on January 12, 2012. Pre-Order is available now! Visit D-Dub.com to learn more about BoneCraft and view trailers, screenshots and wallpapers.
About D-Dub Software:
Founded in 2004 in Albuquerque, NM, D-Dub Software is not your average video game company. When they started the business, Hod, JB, and Max were recent college graduates and knew that they didn't want to be a part of the corporate culture. They have embraced the independent business spirit and developed BoneTown and BoneCraft by their own rules.
# # #