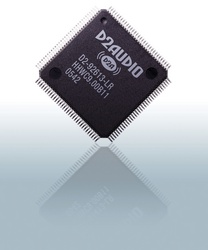 You only have to look at Alienware's Hanger18 Media PC to see the success D2Audio's Gen1 technology for Media PC
AUSTIN, Texas (PRWEB) September 5, 2007
In a bid to grab some of the high-growth, 50 million unit market of Home Theater/Media Center systems, manufacturers marketed traditional PCs as "Media PCs." These traditional PCs have not been true "Media PCs," as they typically failed to deliver on the promises of home theater convergence devices:
-- Limited convergence - Non-D2Audio "Media PCs" actually ADD to the equipment stack in the living room, requiring additional components and an external audio amplifier to function as true home theater.
-- Poor Sound Quality - Sound quality in non-D2Audio Media PCs is what you would expect from a traditional PC rather than an audio video receiver.
-- It doesn't feel like home theater - Non-D2Audio "Media PCs" are non-amplified and can't begin to compete with the power required to deliver a realistic and immersive audio experience that users have come to expect from home theater.
Only patented D2Audio technologies address all the shortcomings of previous Media PCs and eliminate the obstacles that have prevented one box convergence in the past.
Enabling Convergence
The unique attributes of the DAE-3 that make convergence possible are: 1.) The DAE-3 IC is physically small, about the size of a dime. The DAE-3 technology is highly integrated, combining the four chips of D2Audio Gen1 Media PC amplifier technology into one IC. 2.) Unlike traditional analog amplifiers, the DAE-3 ICs have a very small thermal footprint and dissipate over ten times less heat as compared to Class A/B amplifiers, which is an essential feature for convergence. Any heat generated inside the system enclosure must be released into the room. Large amounts of heat force the use of a fan, with the accompanying irritating fan noise clearly audible above audio tracks. The DAE-3 solutions offer noise-free, fan-less operation. 3.) The real-time power supply monitoring of the DAE-3 is the primary feature that enables convergence. In the past, home theater quality sound required two monster power supplies in separate component boxes, which prevented convergence. The unique DAE-3 firmware implements real-time power supply monitoring, allowing the use of a single standard PC power supply, making single box convergence possible.
Produces Superior Sound
Sound quality in non-D2Audio Media PCs is what you would expect from a traditional PC. In contrast, through extensive intellectual property, D2Audio has a rich history of producing the highest-quality sound available. For instance, the D2Audio DAE-1 family was the world's first and only digital amplifier to meet the stringent THX Ultra2 performance requirements and the D2Audio DAE-2 family is the world's first and only digital amplifier with real-time digital feedback. As an Intelligent Digital Amplifier(R), the DAE-3 constantly monitors and optimizes its sound, producing superb results. These and other patented technologies produce D2Audio's superior sound that is simply out of the reach of other amplifiers.
Provides a True Home Theater Experience
Previous "Media PCs," which are non-D2Audio-based, do not contain an amplifier. These traditional PCs cannot begin to compete with the power required to deliver a realistic and immersive audio experience that users have come to expect from home theater. These so-called "Media PCs" may drive 5.1 or 7.1 outputs, but without an amplifier, they are poor imitations of the real thing. Even the most inexperienced consumers can clearly hear and feel the difference of a true home theater experience provided by D2Audio.
One-of-a-Kind Technology Prevents Sudden Media PC Shutdown
With its protection against power supply overload, only the D2Audio DAE-3 prevents the potential sudden shutdown of Media PCs caused by loud music, explosions and special effects that occur during movies or games. Patented technology lets DAE-3 manage the Media PC's power supply through real-time monitoring and protection technology. Makers of traditional PCs do not have access to this patented technology without D2Audio. Therefore, their "Media PCs" do not have the unique protection of this important D2Audio feature. Owners of D2Audio-based Media PCs will not face this issue.
"We are extremely proud of the DAE-3 technology for Media PCs," said Dr. Skip Taylor, founder and chief technical officer of D2Audio. "AMD decided to develop standards for Media PC and chose D2Audio as their audio partner in that process. Many of DAE-3's features were developed as a result of those standards and the AMD partnership. The resulting DAE-3 audio features have been so successful that you will now find the DAE-3 on the newest generation of AMD motherboards for Media PCs running AMD Live! Media Center products."
"You only have to look at Alienware's Hanger18 Media PC to see the success D2Audio's Gen1 technology for Media PC," said Brian Wong, president and CEO of D2Audio. "With our new second generation DAE-3 based amplifier solutions for Media PCs, D2Audio brings even more unique features to Media PCs. Manufacturers are enthusiastically embracing the technology and recognize that there is nothing on the market that is even close to what D2Audio brings to the table."
The DAE-3 IC can operate as both pre-amplifier & amplifier reducing the number of parts and saving manufacturers' cost. This new semiconductor reduces previous BOM cost by up to 25% through lower implementation costs, which can increase profit margin or to be used to add value.
The new D2Audio IC makes scaling power and the number of channels easy, which makes creating a range of products simple & cost effective. Its technology makes it easy to swap amplifier cards, allowing brands to swizzle product designs to produce more variety & differentiation. This also provides the capability to quickly react to consumers' desires and demands.
The DAE-3 amplifier solutions operate with the standard PC Power Supply - a first for high-performance AVR class amplifiers. Furthermore, its fan-less high-quality audio is extremely rare in Media Centers. It also allows manufacturers to control the quality of the audio experience when working with a one box solution.
About D2Audio Corporation
The D2Audio Corporation, maker of the world's only Intelligent Digital Amplifiers, supplies a full line of cost-efficient, powerful, multi-channel platforms. These systems include ICs and firmware with market-leading performance and superior sound quality for digital media applications in consumer, professional, and automotive industries. The patented D2Audio Intelligent Digital Amplifier technologies, now with D2Audio SoundSuite(TM), deliver an immersive audio experience with the D2Audio(R) Digital Audio Engine (DAE) IC platforms. For more information on D2Audio and its products, please visit http://www.d2audio.com.