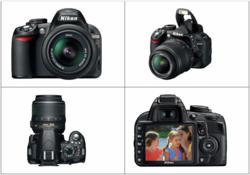 Denver, Colorado (PRWEB) February 08, 2013
Find My Price, new tech review website, organized a unique digital camera review on Thursday by testing the two DSLRs, Nikon D3000 and its predecessor, Nikon D3100.
The two cameras have very similar features, which is why editors at http://www.FindMyPrice.net wanted to see whether the differences are noticeable in practice, as well.
The first tests have shown that D3100 is slightly better than the D3000 model. The 14-Megapixel CMOS sensor is a noteworthy improvement because the photos taken with D3100 were sharper than the ones made with the older camera. Both cameras have the same lens 18-55mm, so reviewers were not impressed with the newer model's performance in this category.
The wider range of ISO sensitivity provided on D3100 digital camera is making a difference in point of noise reduction. While photos taken with D3000 appeared blurred and pixelated at low or high ISO ranges, the JPEGS made with D3100 were clear up to ISO 1600. Even though the manufacturer claims the ISO sensitivity can be expanded up to 12800, reviewers are convinced that very few people will use this level because pics look too flawed.
After multiple uses, all editors have concluded that both the first and the second device are just as easy to use. The cameras offer advanced DSLR features and shooting modes without forgetting the less experienced users. Non professional photographers can get the same results as professional ones as long as they use the Guide Mode to get accustomed to the camera's settings. Based on reviewers' description, this mode is a great function to start for buyers who haven't had a DSLR before.
The D3100 model is much more expensive than the older version, but the cost differences are justifiable given that the D3100 DSLR has video capabilities, as well. The latter records 1080/24p clips in Full HD Cinematic format and has autofocus and sound, whereas D3000 cannot record any videos.
Reviewers at Find My Price have concluded at the end of the trials that Nikon D3100 is slightly better than its predecessor, D3000. Customers who want to purchase the device can place their orders directly on the company's website as the review contains links to the best deals available on the Internet.
Find My Price is one of the most accessed tech review websites in America. The company managed to attract customers and visitors due to their original website content. Tech reviews, product comparisons, market analyses and recommendations are uploaded every day on http://www.findmyprice.net.